Often seen to be an industry plague by stress and overwork, a new survey has found that professionals in the marketing, PR and research and development industries to be one of the happiest in Singapore. (Yup, we were just as surprised upon hearing this too.)
This was according to the JobsCentral Work Happiness Survey Report 2017, which stated that the happiest workers in Singapore are those in the translation and editorial field of work. These professionals come in at a happiness indicator score of 75.8.
Coming in second were employees in public relations with an average score of 60.1. According JobsCentral, this implies that employees are satisfied with work attributes such as positive impact to society, safe working conditions and autonomy at work which are considered most important.
Meanwhile, marketing professional came in third place with an average score of 60.0. Other job functions with employees who are comparatively happier than their fellow counterparts are those in research and development and legal with average scores of 59.2 and 59.1 respectively.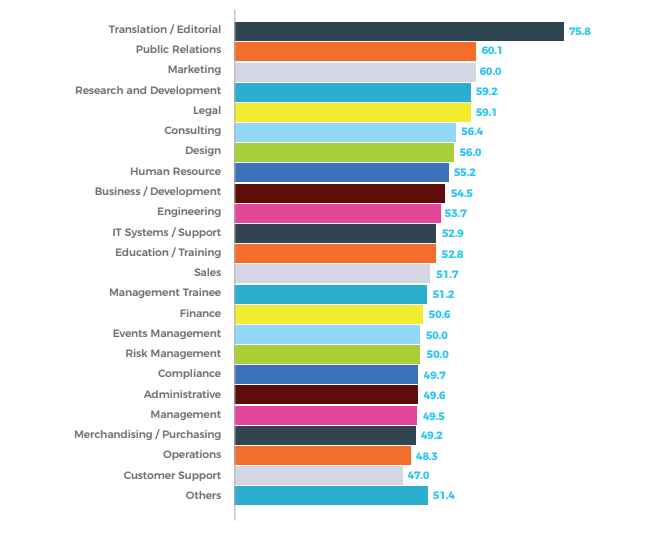 Employees in the function of customer support are the least happy with a below par average score of 47.0. The study explained that this could be attributed to the difficult nature of the job which requires these employees to interact with customers and address their enquiries and feedback. Other job functions which fared lower in the indicator include compliance, administrative, management and merchandising/purchasing.
Overall, the survey found at least one in two employees unhappy at work. The average overall work happiness indicator score was found to be at 46.8%, marking a record low since the survey begun in 2009.
What are employees looking for?
The study also found that employees saw money as a main motivator in their jobs, with majority of respondents indicating pay raise and salary as most important in deciding work happiness.
This is followed by work-life balance and good relations with colleagues in terms of important work attributes.  Meanwhile, the least important attribute of work voted by the respondents is the positivity within the societal impact of their work.
One in three respondents cited a pay raise as the top action desired for happiness, indicating direct monetary and tangible rewards to be key to a happier workforce. In contrast, respondents were least concerned with not sticking strictly to designated working hours, or benefits such as an employee wellness fund or a well-stocked pantry.
Majority of respondents have no preference towards the gender of their bosses. However, those that did at 31.2% preferred male bosses over females.
Sam Ng, managing director of CareerBuilder Singapore, said the survey results suggest that majority of respondents perceive they are underpaid. This has potential huge impact on the engagement level of employees if left unaddressed.
"Employers should gather feedback from their staff and together develop an ideal compensation package to boost overall happiness at work," Ng added.
JobsCentral Work Happiness Survey Report 2017 surveyed 1,843 respondents, aged 16 years and above. The study was conducted between June and July 2017.
Read also: Can employees escape the overwork culture in the ad world?