While there is plenty of money in social media marketing in mainland China, there's still not enough attention to the fact that accessing ads and special deals from mobile is just different.
"We saw a lot of businesses last year shifting a large amount of their marketing spending to social networks. The challenge is that not too many people are designing specifically for mobile," said Colin Light, digital consulting leader of PwC China and Hong Kong, at the launch of the Mobile Advertising in China 2014 report yesterday.
"They have still not invested the money in targeting the individual based on their location, gender, or age and that's really the next wave of investment we see coming in the next 18 months."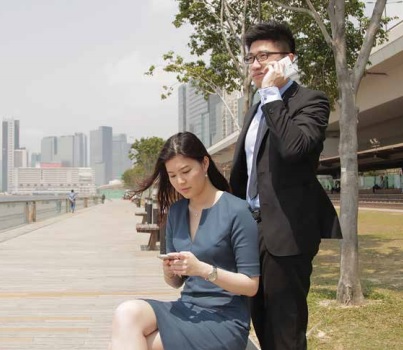 He adds that a number of marketers are now beginning to shift their spending into social media mobile marketing, but it will likely take 12 months to have a large scale effect.
"The platforms needed to deliver targeted advertising to an individual based on where they are and who they are, is still technology that is being rolled out by the week. In order to be comparable in the level of targeting you see in the UK or the US, it may take another 18 months," said Light.
"Consumers are asking for much better engagement, which is coming from coupons and videos. So that's why what's on social media, even though it's accessed through mobile, hasn't been made for mobile."
The trend towards engaging campaigns that encourage two-way interaction with the brand, Light says online advertising payment schemes may move from pay-per-click to pay-per-redemption or pay-per-action.
"That closes the loop and creates ROI for a marketer because you actually see people responding.  This kind of closed-loop marketing is what mobile marketing delivers in a way that TV and newspaper can't."
According to the PwC report, Chinese consumers are more open to mobile advertising, with 78% of respondents more likely to click on an ad if it was relevant to them.
"That is almost double the figures that we have seen in the UK and the US," said Andy Wong, associate director of digital consulting at PwC China and Hong Kong.
"Mobile advertising is becoming more and more dominant, representing about 40% of the advertising market.  By 2017, it will represent close to 50% of the advertising market."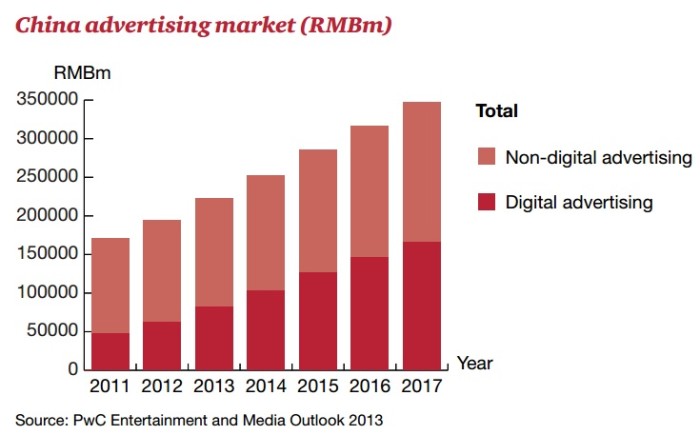 According to the report, mobile advertising will be worth RMB12.5 billion this year and is predicted to grow to 25.7 billion in 2017, representing a 27% year-on-year growth and making mobile advertising the fastest growing advertising segment in China.
When respondents were asked whether they had intentionally clicked on an ad in the past month, 40% said yes and half of those users went on to interact with the brand's website.  Fifty-eight percent were strongly willing to share information in exchange for free apps, coupons, deals or other items of value.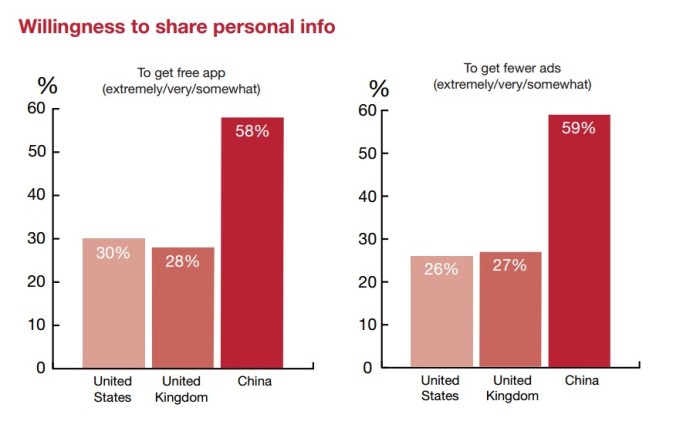 "They are willing to trade their data in exchange for free offers for coupons or give them money off of free adverts and applications – it's not about giving data, it's about trading data," said Light.
Apart from interests, demographics and location, previous online purchases are also acceptable ways of targeted marketing for Chinese consumers.
Light said, "Chinese consumers are much more willing to be targeted by purchases they are making online. Given the dominance of online shopping as a route to retail purchases in China, it's particularly important that Chinese consumers accept that they can be targeted by advertising through those online purchases. Twice as many respondents are accepting of this compared to their US counterparts."