Influencers command different levels of influence. Celebrities, musicians, media publications, youtubers and bloggers all influence their readers to a certain degree. While the distinction in influence is clear in celebrities (i.e A-listers vs C-listers), it isn't so obvious when it comes to distinguishing between online media like bloggers. It doesn't help that the general public is quick to lump together anyone who owns a blog as a 'blogger'. Bloggers are essentially influencers and like all influencers, their level of influence varies. The problem I see in the majority of marketers in Singapore today is:
Not being able to distinguish between a top blogger and an unknown blogger.
Not knowing the tools to identify and evaluate influencers.
This is bad for them because it means these marketers either 1) end up blowing their budget on ineffective bloggers while coming to the conclusion that blogger marketing is bad or 2) they skip blogger engagement altogether. Influencer marketing is one of the most cost effective ways to create value for brands, and marketers should not miss out on this. But it's also pointless to engage a blogger with little influence. This article aims to show marketers how to identify and evaluate influencers, so they can confidently run 'blogger engagement' campaigns successfully.
Why marketers often choose bloggers

When it comes to influencers, bloggers are the popular choice because even though they have lower profile than celebrities or musicians, many offer similar or greater reach at a fraction of the price. Yes, engaging someone with a high profile does have utility sometimes. But more often than not, marketers are more interested in the ROI. They are able to gain far more mileage for the same amount of advertising spent through bloggers. In Singapore, you can forget about gPlus, Pinterest or even Twitter, three mediums which perform well globally. There are just two dominant social media channels for influencer marketing here. The first is Instagram. The second is Facebook/Blogs. There is a lot of synergy in the latter so I will be talking about them together at the end. First, I'll explain why bloggers are the popular choice for influencers.
In Instagram influencer marketing, an A-List celebrity in Singapore typically has 40k to 100k fans. As they are high-profile, the value of their 'endorsement' is also factored into their advertising price. Engaging them could easily end up costing a 5 figure amount. On the other hand, an influential 'A-List' blogger on Instagram typically has 80-200k followers. Most just charge a three-four figure amount. So you're essentially paying less than 10% and getting a similar or greater reach. The same concept applies when engaging bloggers to write blog posts, as compared to advertising in print media.
In print, prices factor in the profile of the publication rather than the absolute value derived from the exposure. If ROI is your concern, you have to focus on the return of value and not the intangibles.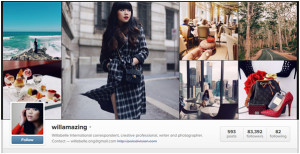 @willamazing is a popular independent influencer
Takeaway: For the same price, rather than one high-profile influencer, you can afford to engage multiple influential influencers/bloggers who will deliver more posts and far more visibility for your brand. This is why bloggers are the most cost effective influencers.
Instagram Engagement Guidelines
Do not look at follower counts. Engagement is best judged based on the average number of likes influencers receive in each picture. Statiscally, brands receive a 4% engagement level from their followers. Of course, this varies among different accounts and some influencers have up to a 10% engagement. But generally, this means for every 100 likes a picture receives, the account has 4,000 active followers. Or 400 likes = 10k active followers and so on.
A simple guideline:
200+ average likes / picture (Good to engage - They reach 5k active followers)
1k+ average likes / picture (Good to advertise - They reach 25k active followers)
2k+ average likes / picture (Good for campaigns - They reach 50k active followers)
Engaging them refers to inviting them down for events/collaborations and building relationships with them. Those hitting 1k+ likes give substantial reach and are definitely worth engaging for advertorials. They get approached A LOT and a simple collaboration won't interest them. They have reached a stage where they will only invest their time is limited and so they have to prioritise advertorials. Those that can hit 2k+ likes per picture should be considered for campaigns. That refers to a series of 5-20 instagram posts over an extended time period to build visibility and awareness for bands. You now know how to identify an influencer, so your next step is to find them.
Finding Instagram Influencers
Marketers should follow influencers in their industry with good engagement rates. The easiest way is to approach an agency, but I won't recommend that if you know what to do and have the bandwidth to manage them yourself. Influencer agencies typically take more than 50% of the the cut. So you end up getting 2-3 times more value by engaging bloggers directly. You also can build direct relationships with them. There are plenty of bloggers who do not belong to any agency. If you have nowhere to start, simply scroll through the popular tab on the instagram app, looking for users who are 'popular in your country'. Once you find one, follow them and also check out who they are following. They're likely to be following similar influencers in the same industry. Follow them too. After an hour or so, you should have a good 20+ influencers identified as potential influencers for your next campaign.
Instagram Marketing vs Blog/Facebook Marketing Many influencers have very high followings on instagram, but relatively much lower readership on their blog. Here are the main difference between these two channels.
Instagram Characteristics: Visibility: Great for hitting a mass audience in a short period of time as many Singaporeans are more active on social media and mobile apps than on blogs. Brand information is limited as captions become annoying past a certain length.
Discoverability: Because of the way instagram works, after 1-2 days of posting, chances are not many people will see the post again. So discoverability is low, as is the viral lift as links are not clickable and sharing only reaches one individual at a time.
Suitability: Instagram reaches a much younger audience and is very visual in nature. This means fashion/shopping/food ends up doing extremely well here. Instagram is great for reaching a younger audience or getting mainstream attention for an event.
Blog Post Characteristics: With all the choices and clutter that bombard people today, readers are less inclined go to sites directly even if they are regulars. This is the reason why even though these instagram influencers have huge instagram followings, they have comparatively much lower readership on their blogs. Most bloggers today have strong instagram followers but low blog readership. Most publications have strong readership but low social media followings. This is the result of changing information consumption patterns. Only a select few bloggers/publications have strong reach on both.
Visibility: A typical 'popular' blogger gets 30-50k readers a month, that averages out to just 1k+ readers a day. Blog posts generally do not get seen by as many people as instagram posts unless it is accompanied by social media pushes. They are however, much longer in nature and can contain far more brand information.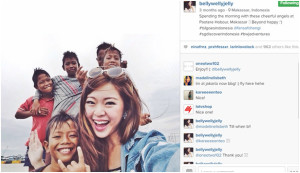 An editorial campaign for CAG supported by instagram shares from an influencer.
The best way to execute a blog post is to have the blogger share it on their facebook page and instagram channels as well - this way you get the best of both worlds.
Discoverability: Unlike print advertising which just lasts for a single issue or instagram which has strong reach just for 1-2 days, blog posts generally last forever. This makes them extremely valuable in terms of discoverability when the blog adopts good SEO practices. This means 5 years after an advertising campaign, people could be searching for a brand and end up across a positive review a blogger posted years ago. When paired with a strong social media channel, the reach and viral lift can hit insane numbers. However, there are only a handful of blogs and publishers in Singapore that have figured out native advertising the way of sites like Buzzfeed in America. Native advertising refers to paid content that is similar to the publication's editorial content specially conceptualised for brands. These tend to be more sharable in nature.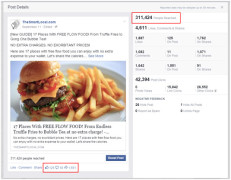 Due to the viral lift of facebook, some posts can hit insane organic reach numbers.
Suitability: There are many things you cannot share on Instagram. There are few things you can't write about on blogs. Blogs are especially effective when something is new or has an interesting angle. This way, the sharability of the post will sky-rocket. An alternative is to find a blogger with the ability to find creative angles to make the post interesting and as sharable as possible. It's like engaging a micro creative agency with it's own marketing channels.
Takeaway: A blog alone is no longer an effective marketing channel. It has to be accompanied by social media channels that directs it's followers to new posts. To many Singaporeans, Facebook is the first page of the internet. A strong facebook following provides the best support of all the social media channels because of the potential discoverability it offers to non-followers. Blog posts alone without social media support are weaker than instagram posts in terms of visibility. But when blog posts are supported by strong social media shares, it easily trumps marketing on instagram.
Blog Engagement Guidelines
Blogs or publications with high readership and loyalty have strong influence. I used to use Alexa for the longest time to evaluate traffic, and even used it as the benchmark to rank the most popular bloggers in Singapore. It was decent and provided a rough estimate. However, I eventually found it grossly inaccurate compared to a new traffic estimator I discovered called similarweb.com. To evaluate an influencer, simply enter their URL address in the search bar. This is the best part of their service and it is 100% free. It is by far the most accurate estimator of web traffic I have come across as it does not give you just a ranking like Alexa, but an accurate estimate of readership each month. Generally good bloggers have readership of 20-40k a month. Popular bloggers have 100k+ readers. Popular publications have 200k+ readers. The best blogs in Singapore no longer consider themselves blogs and prefer to label themselves as websites. And these popular websites have 400k+ readers monthly. So where and when should you advertise?

Influential publications like TimeOut get over 200k+ hits monthly. This number above is consistent with the readership numbers reported in their official rate card.
A simple guideline:
20-40k+ readers monthly - (Good to engage)
80k+ readers monthly - (Good to advertise)
400k+ readers monthly - (Good to run campaigns)
Similar to instagram, these sites have different degrees of influence. Likewise, those with 40k+ monthly readers are worth collaborating with and those with 80k+ readers will probably only give publicity if you engage them via advertorials or sponsored posts. Sites that hit half a million users a month have more reach than most print media in Singapore. If done correctly, they can end up running very strong campaigns for you at a fraction of the price you'll have to pay in print media advertising. Do remember that you should only engage with blogs/publications with strong social media followings as well. Thankfully, most of the top blogs and publications in Singapore have a correspondingly strong social media following. If you want to run an editorial campaign, you should be looking for sites with at least 20k facebook followers with a good track record of conceptualising sharable content.
Final Notes on Engaging Influential Blogs/Publications
The final step is to evaluate the incoming traffic of these bloggers. What you should look out for is a healthy mix of direct, search and social traffic as that will determine your advertisement placement. For example, a directory-type site with 1 million visitors but with an uneven 80% of traffic derived from search is getting most of their visitors from search engines. So readers land on their listing pages and don't see their home page. If only 5% of their traffic is direct, that means essentially only 50k readers are seeing their main page and following their front-page editorials monthly. This means it may not be wise to engage them in sponsored posts or native advertising. It may however, be more effective to advertise with them with banners. You could also make sure if you do advertise with them, the advertising displays on their listing pages as these are the pages that get the traffic.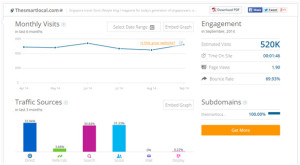 A consistent and good even spread of traffic across direct, search and social channels. Lastly, branding is very important so for a final hygiene check, you should gauge public sentiment for these bloggers/publications before engaging them. I recommend doing a "reverse negative" google search for red flags. Simply type in "blog name + scandal" or "complaint" or some negative attribute to see if their branding is clean and safe to associate with. With this knowledge, you should now be able to effectively identify influencers for instagram and blogs, evaluate their influence, and know what is the most suitable approach for each medium.
This article is written by Bryan Choo, editor-in-chief of The SmartLocal.
At our very first 'Bloggers Hub' at PR Asia 2014, Bryan Choo will be sharing how companies should utilise bloggers today. He will talk about the need to use native advertising and branded content effectively, and how that can lead to increased engagement rates on facebook which is dominated by such content.
Facebook engagement is a big challenge to most marketers, but it is a subject he loves to tackle. He adores every Facebook algorithm change, as he knows that if you're able to adapt to it, you will end up with a significant advantage over your competition.
To register for PR Asia 2014 , please contact Joven Barcenas at jovenb@marketing-interactive.com or +65 6423 0329 or +65 9820 5195.
For sponsorship opportunities, please contact Che Winstrom at chew@marketing-interactive.com or +65 6423 0329.
To discuss the agenda, enquire about presenting or to suggest topics, please contact Preeti Varadarajan at preetiv@marketing-interactive.com or +65 6423 0329