It's going to be a tough year for marketers in Malaysia, with the looming price hikes and tax tariffs on everyday goods and services.
In the latest Consumer Confidence Index released by Nielsen, consumer confidence in Malaysia stood at 98 points – just below the 100 point mark, making it the lowest index since 2010.

The Nielsen Global Survey of Consumer Confidence and Spending Intentions measured over 30,000 participants in 60 countries to determine the level of optimism and pessimism among consumers for the coming year. A level below or above a baseline of 100 displayed the market's spending intentions.
While Southeast Asia leads the world with an overall healthy dose of confidence in spending globally, Malaysians and Singaporeans (97) dropped a few points, while Indonesia (124), the Philippines (114) and Thailand (109) reported optimistic consumer outlook.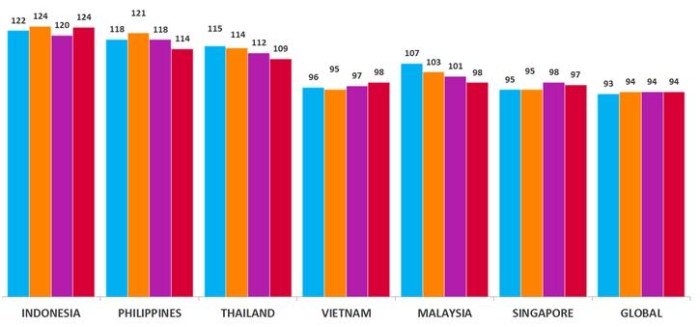 Richard Hall, managing director for Nielsen Malaysia said: "Whilst the Malaysian consumer confidence has slipped below the 100 mark for the first time in three years, Malaysia remains one of the stronger countries globally. This is a testament to the fact that whilst Europe and the US continue to languish in recession mode, countries like Malaysia and other Southeast Asian countries are still experience a positive growth economy."
One third of the consumers surveyed in Malaysia said that the economy is their primary concern, despite Forex reports that the nation's economy is expected to improve by five per cent this year. The subsidy cuts and tariff increases are cited by consumers to be affecting their decision to practice frugality in 2014.
"Future price increase through the implementation of GST and rumours on further subsidy cuts will be fuelling the decrease in consumer confidence," said Hall. "Malaysian consumers are stating that they are saving more that clearing debts in anticipation of future price increases."
The industries prevalently affected by this index survey are retail, out-of-home entertainment and grocery brands, with eight out of 10 Malaysians stating their intentions to cut back on these expenses. The automotive and petroleum industries will be the least affected.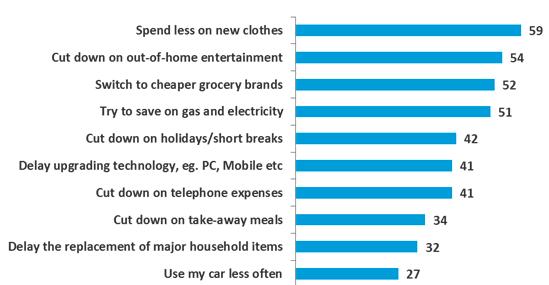 As for the Fast Moving Consumer Goods (FMCG) sector, year end figures from 2013 reported a dip by 0.8% points as compared to the year prior.
In a separate report by Nielsen on Global Ad Spend, last year recorded a 3.2% increase of advertising expenditure for Southeast Asia, suggesting the region is positively growing its trade and marketing leg.