Facebook has been ranked as the brand that Malaysians would be "proudest to work for", coming in with a score of 51.7 out of 100, according to YouGov BrandIndex.
The index, which ranked 370 brands in Malaysia using the reputation score between 1 May 2017 and 30 April 2018, listed Mercedes Benz (43.7) and BMW (43.2) as the second and third brands that people in Malaysia would be proud to work for respectively.
Taking the fourth and fifth sport are Lazada (41.9) and Maybank (41.1). Other international brands that were among the top 10 include WhatsApp (40.9), Apple (40.0) and Google (38.1).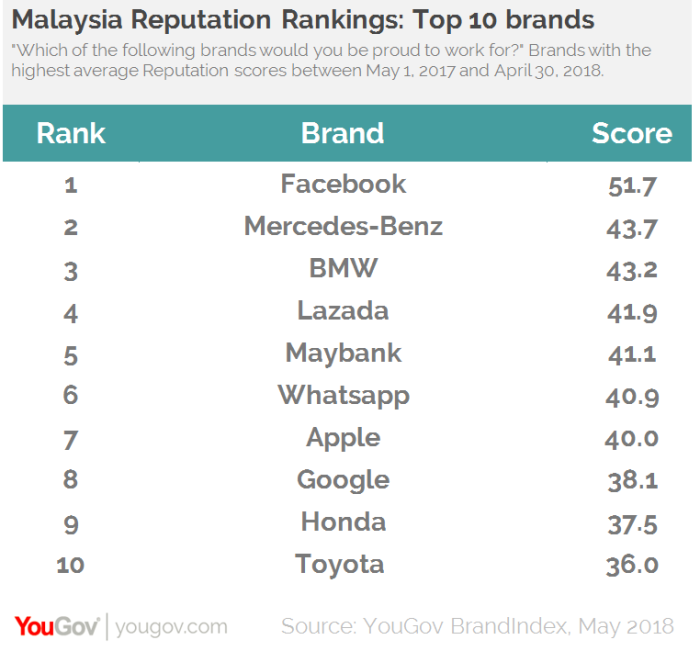 Meanwhile, Huawei was ranked the brand with the most improved reputation as an employer, with its reputation score increasing by 11.3 points over the past year to 21.6 in 2018. The Reputation Improvers chart ranks the brands with the highest increase in reputation, comparing the scores from 30 April 2017 to 30 April 2018.
McDonald's had the second most improved brand reputation (6.6), improving from 17.7 points to 24.3. Meanwhile, Proton came in third with a 6.5 point increase from -16.4 to -9.9. Two other Malaysian brands – Perodua (5.4) and Telekom Malaysia (4.3) – were ranked fifth and tenth respectively. Brands that also made it into the top 10 include Instagram (5.7), Samsung (5.3) and Volkswagen (4.7).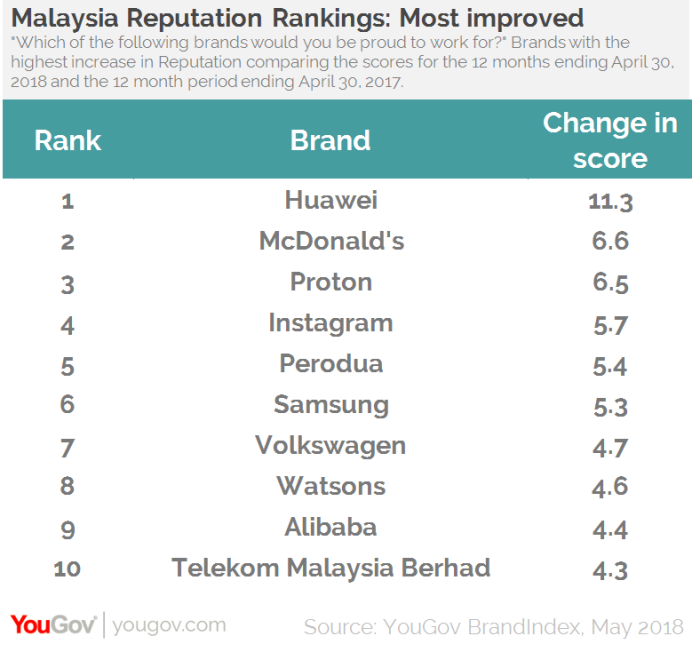 For this ranking, respondents were asked which brands they were proud or embarrassed to work for, and only those who were aware of a given brand were interviewed.
In today's world where constant turnover is a norm, brands now need to have a strong employee branding to stand strong. Companies need to embrace their employees as brand ambassadors, and as such, they need to take care of their stakeholders and realise that employee satisfaction will directly impact a company's public perception.
Building a strong brand requires that all employees feel connected to the corporate brand and understand their role in turning brand aspirations into reality. To build a strong corporate brand, you need brand ambassadors – employees who are thoroughly engaged.
(Read also: 3 steps for effective employee communications)