Malaysians are a careful lot when it comes to consuming products, with nearly two-thirds of online consumers surveyed said they would wait for new products to be proven before purchasing, and 65% are more likely to buy new products from familiar brands.
The Nielsen Global Survey of New Product Purchase Sentiment also shows new product awareness is driven by traditional advertising and word-of-mouth communications.
One quarter (25%) of online Malaysian consumers consider themselves as early purchasers of new product innovations with just 5% fully agreeing that they are strong supporters of innovation.
Almost 65% of those surveyed in Malaysia indicate that they will wait until a new innovation has proven itself before making a purchase. When it comes to priority in brands, 65% of online Malaysian consumers prefer to buy new products from a familiar brand, higher than the Asia Pacific's average of 55% and surpassing the percentage of respondents (55%) who are generally willing to switch to a new brand (Chart 1).
"As much as consumers generally like to see new products produced and welcome innovation for a change, when it comes to firsthand buying behaviour, consumers often have their reservations on what could happen to the product and its after sales services in the short and mid-term," said Richard Hall (pictured), managing director of Nielsen Malaysia.
"The wait-and -see attitude adopted by Malaysians is still very much the norm when it comes to actual purchase and usage. Importantly, the price -to -value equation remains a key factor in new product success, as does users' positive personal experience on distinctive demand driven elements displayed by products at the right place and right time, inclusive of word-of-mouth endorsement," added Hall.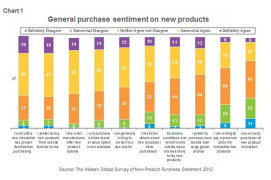 Nielsen's survey reveals that almost half of Malaysian consumers are likely to tell others about the products they have purchased, compared to 64 % in the Asia-Pacific region. Traditional advertising and word-of-mouth communications drive new product awareness.
Nielsen's review of 21 methods to reach consumers across various media and advertising platforms ranging from traditional advertising to word-of-mouth communication and from Internet communications to mobile; shows that traditional advertising and word-of-mouth communications are still the most persuasive ways driving awareness of new products or innovative executions in Malaysia.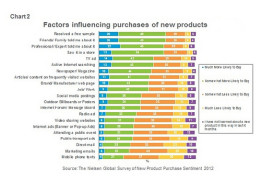 Sixty-nine percent of online Malaysian consumers who use free samples are likely to purchase the new product. This is followed closely by two other most persuasive awareness drivers under the category of word-of-mouth communications. Listening to advice from family and friends (69%) as well as professionals and experts (67%) are among the top three methods. Seeing products in stores (67%) and in TV ads (56%) remain influential while active Internet searching (56%) are seen to be as persuasive as TV Ads.
While conventional marketing vehicles such as in-store presence and TV advertising continue to be the largest drivers of awareness, consumers are increasingly looking to the Internet for information when making purchasing decisions.
The influence of the Internet on new product purchase decisions is significant across a wide variety of product categories, considering the results are based on online respondents. Overall, online consumers surveyed indicated that the Internet is very or somewhat important when making a new product purchase decision for electronics (82%), books (78%), food and beverage (78%), and car or auto (76%) categories (Chart 3).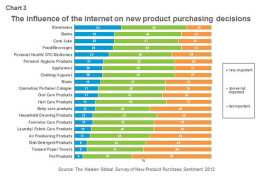 Hall said that influencing demand can be a challenge for manufacturers who are marketing a compelling new product. Some key approaches to surmount these challenges are by targeting the unmet needs and combining benefits from often-unrelated categories to create a new value proposition with distinctive solutions and developing a market-ready offer by leveraging on existing brand platforms can also convert a market opportunity into a winning demand-driven new product.
The Nielsen Global Survey of New Product Purchase Sentiment was conducted between August 10 and September 7, 2012, and polled more than 29,000 online consumers in 58 countries throughout Asia-Pacific, Europe, Latin America, the Middle East, Africa, and North America.