2017 seems to be a good year for the digital marketing and e-commerce industry. Hiring activity is expected to remain strong in this industry, especially with the expansion of new businesses, said a recent report by recruitment firm Robert Walters.
The report suggested that since there is a shortage of professionals with sufficient digital marketing experience, job seekers with these niche skills are likely to be paid up to 30% more when they move to a new employer. Meanwhile, other professionals switching jobs in these sectors can expect salary rises of 15% to 20%.
However, the report indicated that there could be a mismatch between the salary expectations of job seekers, who are hoping for higher salaries in 2017, and hiring budgets, which might not follow suit.
Overall, the report highlighted that technology professionals with good programming skills will continue to be in demand. In order to retain talent in this lucrative market, employers need to streamline their recruitment process and offer competitive salaries to those who receive counter-offers from current employers.
Interestingly, as food manufacturing consumer good companies seek to increase sales revenue through export and online sales, there has also been increased demand for regional sales professionals and digital or e-commerce talent.
In the industrial marketing sector, however, recruitment started slowly in the first half of 2016 and only picked up pace in the latter part of year.  Companies largely started recruiting professionals for sales and business development roles. Therefore, as highlighted by the report, job seekers with these skills can look forward to a more promising outlook.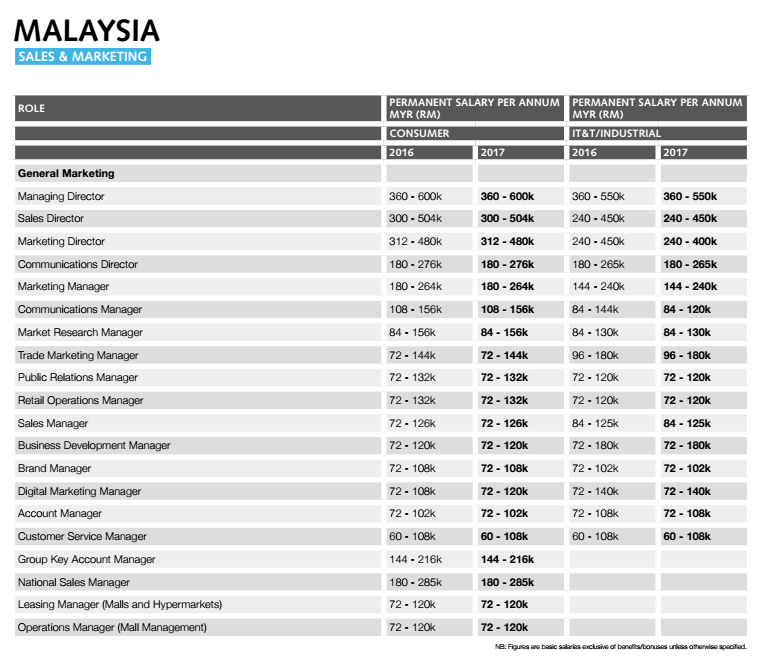 Hiring managers must also provide employees with clear career advancement plans, regional exposure, portfolio expansion and training opportunities. In order to gain access to a wider pool of talent hiring managers must consider high potential professionals who are a good cultural fit for the business. Therefore, job movers with niche skills can expect their salary to rise by 25% to 30%.
If you were wondering what professionals in other industries are making, find out more here:
[gallery ids="165680,165677,165676,165675,165674,165673,165672,165671,165669"]
(Photo courtesy: 123 RF)