Malaysia Airlines website was hacked earlier today. This was allegedly done by an entity called "Cyber Caliphate".
A quick check on the MAS site done by Advertising + Marketing showed a message 404 - Plane Not Found, which alludes to Internet error code "404 not found" was seen. It also had listed three Twitter accounts @Lizardmafia, @umgrobert and @umg_chris as the contacts for the so-called Cyber Caliphate.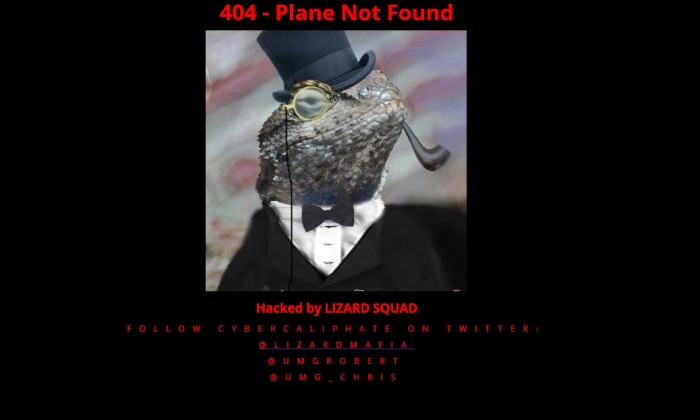 UPDATE:
Malaysia Airlines has confirmed that its Domain Name System (DNS) has been compromised where users are re-directed to a hacker website when www.malaysiaairlines.com URL is keyed in.
The airline also added that it has resolved the issue with its service provider and the system is expected to be fully recovered within 22 hours. The matter has also been immediately reported to CyberSecurity Malaysia and the Ministry of Transport.
"Malaysia Airlines assures customers and clients that its website was not hacked and this temporary glitch does not affect their bookings and that user data remains secured," said the company.
The Malaysian Insider report links the hackers to the Islamic State of Iraq and Syria (Isis) militant group.
MAS has not yet responded to A+M 's queries on the hack. However it has tweeted:
The hacking comes on the back of the brand struggling to get back on its feet. In an earlier article Ryan Lim, founder of QED Consulting had mentioned that overall, there is a noticeably low level of awareness of digital security amongst marketers.
"Most marketers are not trained to fully understand the dangers and implications of not having digital protection measures. As a result, very little resources (if any at all) are allocated to digital marketing protection security policies for marketing campaigns and administrative access protocols for supporting agency are almost nonexistent. This provides loopholes for any potential hacker to exploit the brand of their choice," said Lim.
Echoing Lim's sentiments were Margaret Manning, CEO of Reading Room who added that while brands spend a lot of money on advertising and marketing; they often "don't pay enough attention to protecting that brand online, in addressing both human and technological vulnerabilities."
Meanwhile, late last year, Khazanah Nasional, which is the majority shareholder and strategic investment fund of MAS appointed Christoph R. Mueller as the CEO to turn the ailing brand around.