Happy International Women's Day ladies!
Women, as we know, have come a long way. Globally, we saw Hillary Clinton almost becoming the first woman president of United States of America.
Closer to home, recruiting experts Hays revealed that the number of women in managerial positions has increased in Asia. Nearly 31% of management roles in Asia are now held by women compared to 29% reported in last year's guide.
In the marketing world as well, we saw numerous powerful ads created by brands in celebration of women empowerment. Yet in Singapore, a latest promotional e-mail blast by well known retailer Tangs, left us rather dismayed.
Tangs, in a bid to capitalise on International Women's Day sent out an e-mail promotion with various products that might entice the female consumer.  Nestled on top of the list are two frying pan deals going at SG$38.
Yup, a frying pan.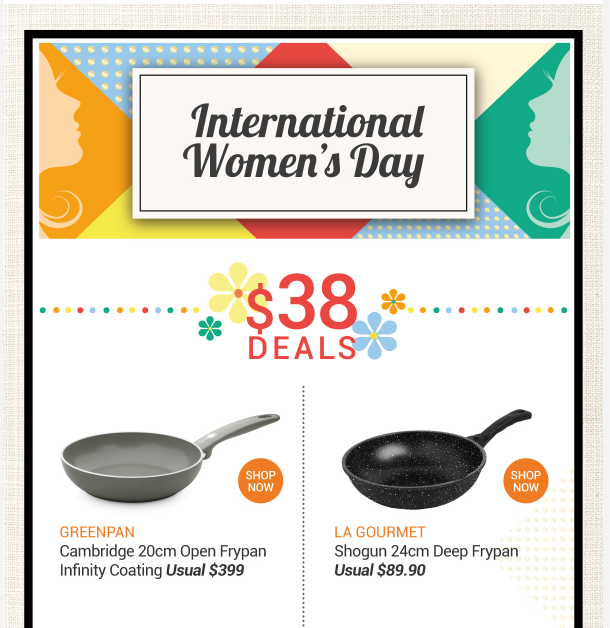 Because, you know, that would be the best gift choice ever...
Here are some other hot deals on the eDM blast.
[gallery link="file" ids="168176,168175"]
While I can see why Tangs chose some of these products to promote (I for one, would love to get my hands on the Satin Shave Advance) - on a day where ideals of women empowerment are widely celebrated, it is probably not a good idea to be remind a women that she just belongs in the kitchen.But if you are looking for the perfect frying pan, this could definitely be the deal you are looking for.
And while we are all in support for targetted marketing for the right audiences, maybe a little more caution needs to be practiced on such empowering occasions.
After all, we wouldn't want you to jump out of the frying pan into the fire.