A digital marketing exec alerted netizens that fake Twitter users are chipping away at Smart Communications and its recently launched free mobile Internet service to its prepaid subscribers.
Smart chairman Manuel Pangilinan announced Friday that mobile prepaid users of Smart, Talk 'N Text and Sun Cellular can now access the web capped at 30MB daily until 30 November.
It was a just a day after the launch when Carlo Ople, managing director & partner at Di9it, observed Twitter accounts with foreigner profile pictures suspiciously appearing, starting what he calls is a "black ops" campaign against Smart.
In his personal blog, Ople shared that dummy accounts with no followers and no following replied to people who mention "Smart Free Internet," attempting to spur negative buzz under the hashtag #liemorepa.
"The name of the game is to individually discourage users to avail of the offer and to slander Smart's brand by trying to get their hashtags to trend," Ople wrote.
Marketing confirmed that Twitter user Claire Amweg, one of the accounts identified with an anti-Smart agenda, was suspended. Below is a picture of that account posted at CarloOple.com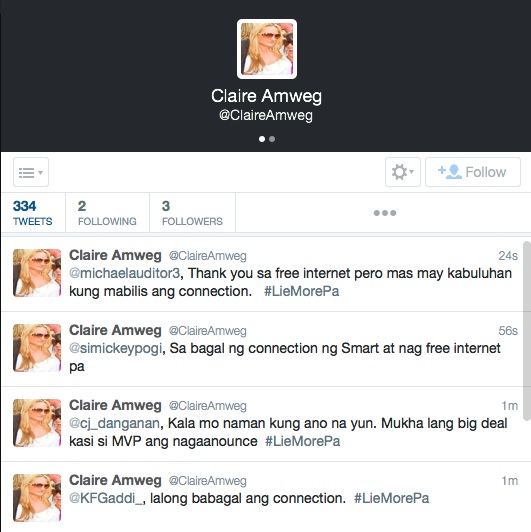 This is not the first time Smart was hit by unfair marketing tactics on Twitter. Ople cited a story posted on Unbox, a tech website he owns, which revealed that the same tactic was employed during the telco's partnership with Deezer last July.
Ople clarified that the blog post didn't reflect the views Di9it and DM9 JaymeSyfu, which are agencies that services Smart, but hopes that it reaches the person who actually hired the group to do the black ops.
"My message for you is this — you are deceiving your consumers with fictitious accounts. You're making fools out of them by making them feel they're talking to real people when they're not. This is digital marketing without creativity and with no soul. Instead of doing stuff like this just come up with a better offer, inform everyone about it, and let the consumers decide."