Coca-Cola gets personal in the Philippines by dropping its iconic logo on some of its bottles to start calling their Filipino customers by name.
A number of regular 250 ml, 300 ml, and 500 ml PET bottles of Coke will be personalized with popular names and endearments as part of the "Share a Coke" campaign. Launched in Australia in 2012, it has since rolled out in 50 countries and is coming to the island nation for the first time.
[gallery link="file" ids="59443,59442,59441,59440"]
"We brought Share A Coke to the Philippines with one goal: to share happiness. Sharing a Coke is a simple yet fun and exciting way for us Filipinos to be able to show our appreciation to those who make us happy," Coca-Cola Philippines marketing director Jasmin Vinculado, said in a statement posted in the Star.
Share a Coke will initially feature 250 of the most popular names in the Philippines but Coca-Cola has let locals to vote online for the next 50 names to be added on the list via the #ShareACoke Philippines official Facebook page. Marketing understands that McCann Worldwide is their agency locally.
Initial response across social media has been strong, with thousands of Facebook users taking pictures with their personalized bottles. And to drive the conversation further online, Coca-Cola also allows Facebook followers to personalize virtual bottles and share them with friends via Facebook, tumblr, Twitter and Instagram.
And for those who can't find their names on store shelves, Coca-Cola will be setting up special electronic kiosks in select supermarkets in Manila and key provinces to let shoppers customize their bottles for themselves. Schedules for the Share a Coke tour are announced on its Facebook fanpage.
Below is a list of the 250 initial names that will be featured on the Share a Coke campaign for the Philippines from 9Gag.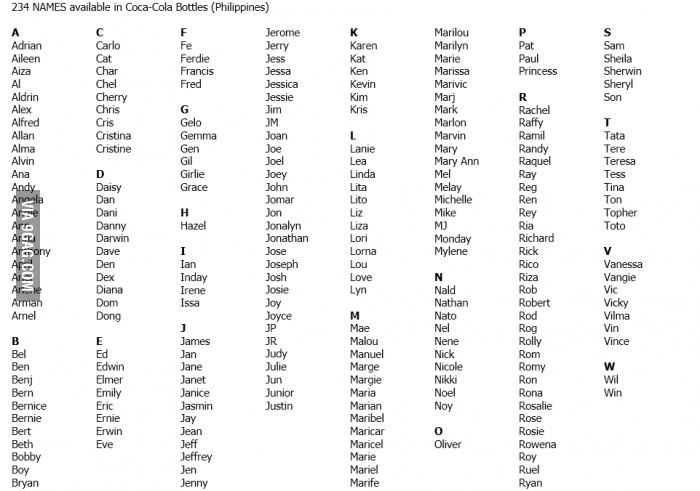 PICTURES: Coca-Cola Philippines