Texan car dealership Charlie Clark Nissan released a series of ads that just screams racial insensitivity and they have lit up social media.
SCROLL DOWN FOR GALLERY
What seems to be a knock-off of new Disney movie Lone Ranger, the latest commercial opens with Clark in white face paint asking whether he can get a Nissan for a cheap price in broken English.
The actor posing as a salesman responds with a mispronunciation on Native American fictional character, Tonto, and a rain dance finishes the spot as the dealer reveals that the disguise was actually Clark himself.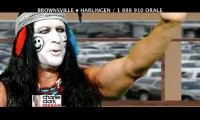 But this is not the first of the dealer's glaring racist commercials. Sporting a similar storyline, he has posed as an Asian Karate master, Italian chef with a love for meatballs, Spanish rancher and wrestler as well as a heavy-accented Western cowboy.
Look below for his various disguises: