Monday's Google Doodle in was drawn not by the tech giant's famed team of doodlers but by a very creative high school student from the Philippines.
A colorful jeepney with wings will be featured on the Google Philippines homepage till midnight created by Kim Patrick Saren from Nabunturan National Comprehensive High School, the first ever winner of Doodle 4 Google in the Philippines - an art competition for kids with big stakes launched last July.
Google got 51,000 entries submitted by kids ages 5 to 17 all vying for a chance to show their own version of the search giant's logo on the Google Philippines home page for a day, answering the theme "What can I do for the Philippines?"
Saren's response to the competition was merging two Filipino cultural icons, a jeepney and an a sarimanok, to "symbolize Filipino culture with deep appreciation of hard work and creativity."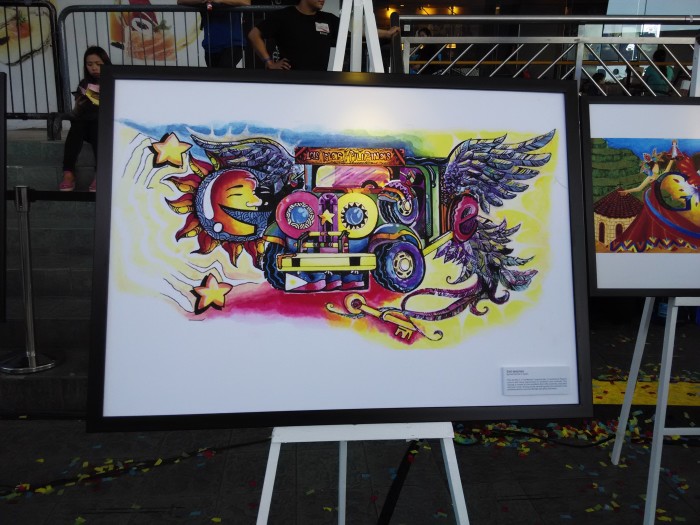 "The concept is created to solve problems like traffic, economy, education and basic needs. The key on the tail signifies the solutions to the problems wherein we must fly high with pride and honor," he wrote on the doodle's caption.
Aside from having millions of web users around the world see his work, Saren took home a specially designed trophy, a P400,000 educational grant from the BPI Foundation, an art kit from the National Bookstore and an Acer Chromebook. The winner's school also will get a P350, 000 technology grant from the PLDT-Smart Foundation
Kim was also one of four winners picked per age group who won a medal from Google, a Nexus 7 tablet, a 3D doodling pen, and P 5,000 worth of gift certificates from National Bookstore. Joining the grand champion are Angela Kaitlin Tiu's "Love and Care for the Philippines," Avryll Nartates' "Coral Ripped or Coral Reef?", and Jay Portallo's "Symphony for Peace" won for the 5-8 years old, 9-11 years old, and 12-14 years old categories, respectively.
[gallery link="file" ids="73121,73120,73119,73118,73115,73116,73117"]
What was initially a door signage at the Google HQ in 1998 has undeniably become a vital tool in communicating Google's brand personality – one that can keep pace and stay relevant in the world and fun.
Apart from enormous brand recall, Ryan Morales, country marketing manager at Google Philippines, said that Google Doodles and Doodle 4 Google serves a greater purpose by letting kids participate in the doodling process to be inspired and, more importantly, inspire others.
"Through the competition, we saw the depth of the Filipino youth's insight, creativity, and innovation. They are very keen on the idea of nation-building," said Ryan Morales, Google Philippines Country Marketing Manager.
"The doodles reflect the aspirations of the nation over pressing issues—from solution to flooding to environment protection to food for the poor, value of education, culture preservation, and global competitiveness," he adds.