Still hunting for your dream job? Well, the job hunt has ended for two Carlsberg beer consumers Wilson Lim and Jeffvinder Singh Shandu. Both outshined 18,000 applicants and scored probably the best job in the world as Carlsberg beer tasters.
As the job title suggests, Carlsberg beer tasters Lim and Shandu learnt and shared details of the art of tasting and brewing a Carlsberg beer, techniques to pour a perfect pint as well as the ingredients Carlsberg brews at several entertainment and refreshment outlets in Klang Valley. They got the most out of their dream job as they made new friends while recruiting and engaging consumers, and earned RM10,000 pay check each in just 8 hours.
Shandu said: "I am glad I've done enough for Carlsberg to give me this awesome job! I thought it was too good to be true when I first saw the recruitment ad on Facebook, I knew it should not ignored and applied for it. I was challenged to perform a few difficult tasks at the job interview."
"The past two evenings working as Carlsberg Beer Taster was all about interacting with beer drinkers, playing the role of ambassador of Carlsberg beer and enjoying the company of my buddies over an ice-cold Carlsberg. I am so excited to receive the RM10,000 pay check from Carlsberg. With the money, I can afford to have a fancy wedding for my wife-to-be and treat my family, friends with Carlsberg beers," Lim added.
[gallery link="file" ids="113716,113717,113718,113719,113720,113721"]
The marketing stunt to appoint beer tasters was part of the "If Carlsberg Did…" campaign which launched in June this year. As part of the campaign, the brewer launched two advertisements supported by web videos.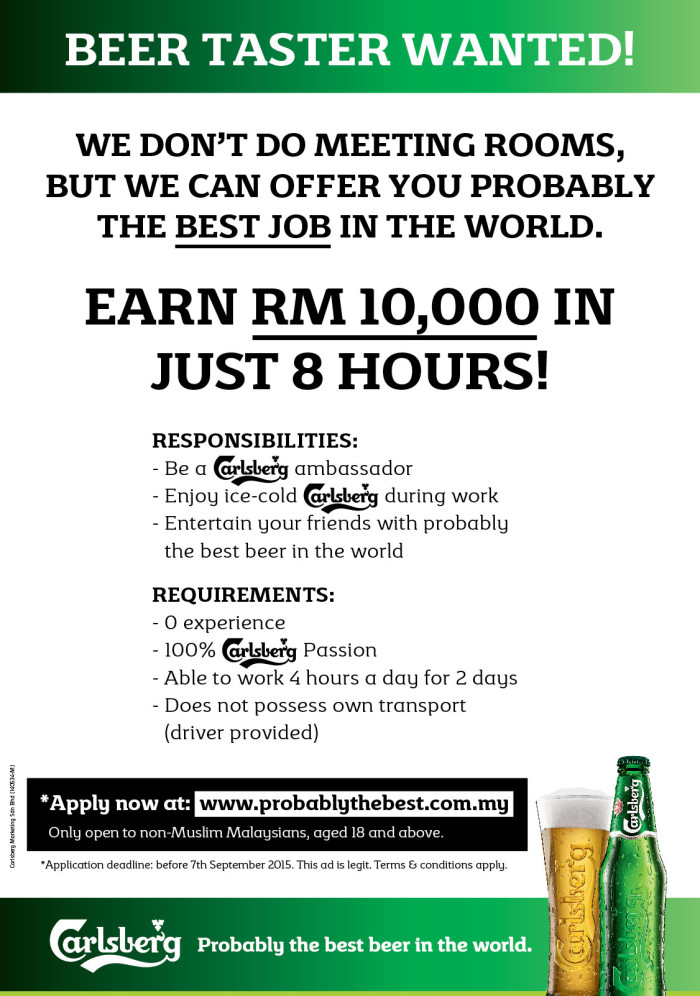 [gallery link="file" ids="113712,113713"]
The campaign to be a taster drew in thousands of applications and 350 candidates were shortlisted where they were asked to submit a photo or video telling why they want to be a Carlsberg Beer Taster. After much due diligence, 25 candidates were invited to a final job interview at the Carlsberg Malaysia's brewery in Shah Alam.. The panel of judges included Carlsberg Master Brewer, Peter Wachenschwanz, supply chain senior manager, David Tan, and corporate communications and CSR director, Pearl Lai.
"It was fantastic seeing all candidates' burning passion for the brew and the job throughout the interview process. All of them performed exceptionally well but only two beer tasters were required at the moment. Thanks to all 18,000 applicants for their participation and the shortlisted candidates for their ambassadorship," Pearl Lai, corporate communications and CSR director said.