What do you do with your lai see or ang bao packets after Chinese New Year?
Lifebuoy and BBH China would say: use them to wash your hands.
Watch our experiment with one of the red packets in the video below:
Filmed by Angela Tong
The red packets are made of anti-bacterial soap. When dry, they are robust and paper-like but once they touch water, they function like soap.
Since 10 February, the red packets have been distributed to parents and grandparents of primary school students in Shanghai at CNY celebration activities or direct mail as part of a week-long campaign. The parents and grandparents then slipped cash into the red packets and gave them to their children and grandchildren.
"The original brief was about creating a short Chinese New Year film to promote Lifebuoy's brand values.  We spent a lot of time and effort writing the scripts," Leo Zhang, creative director at BBH China, said.
"One script referred to Lifebuoy's red anti-bacterial soap in China whose colour was more symbolic of new year festivities than white soap.  We were inspired by this perspective.  'Can a red packet function as soap?' We were thrilled by this thought and quickly jumped to check its feasibility."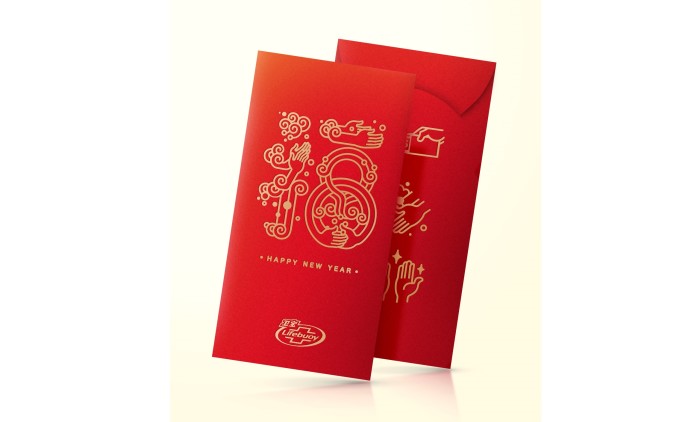 As many of the "soapy paper" products available on the market were not robust enough to take the form of a paper-thin red packet that could enclose cash, the agency asked manufacturers and soap sculptors to produce a custom-made material.
Finally, one manufacturer agreed to change the mix of ingredients and managed to create "soap paper" that was robust enough. It took another four rounds of testing before the agency was able to ensure that the shape and characteristics of the paper would remain unchanged after Lifebuoy's anti-bacterial ingredient was added to the mix.
"We got the idea in a sort of epiphany and it took four months to work with manufacturers to create a material that could be shaped into a red packet to make the idea work," Zhang said.
Jeff Xu, senior brand manager at Lifebuoy China believes the campaign will spread the company's brand message throughout the city.
"We hope our message of good health will spread along with our soapy red packets," Xu said.