Nothing can be more tempting to customers than to offering them free smartphones, with a little bit of effort.
To back two of its products LG G3 launched earlier in June and G3 Dual-LTE in September, LG has rolled out a digital scavenger hunt initiative - LG G3 Hunter - using Google Maps to offer virtual experience for customers to hunt free smartphones by following hints that go around the world.
Developed by Havas Hong Kong, the campaign comprises a game site and a micro-movie to dial up excitement and anticipation for the hunting game.
The clip, starring three hot Youtubers in Hong Kong including Eminleo, Loui5Ng, Ms Hunny and well-known comedian Lo Hoi Pan, tells a story about two secret agents hunting for a treasure hidden anywhere around the world by using the hints they get along the way. The real drama appears when they start fighting for it while not being aware that they have then fallen into a trap.
As for the "LG G3 Hunter" game, a total of 14 G3 models are hidden around the world. Each day, one is being unlocked and three hints are given out for people to decode and locate the smartphone on a Google Maps, and the smartphone goes right-a-way to the one who finds it first.
Participants can also catch the G3 in a different way by applying a turn action of their smartphone. Through the hunt, the company hopes to educate consumers not just its Dual-LTE capability, but also T-action, which is currently only available in Korean and Hong Kong LG G3 version.
Click below to the game site: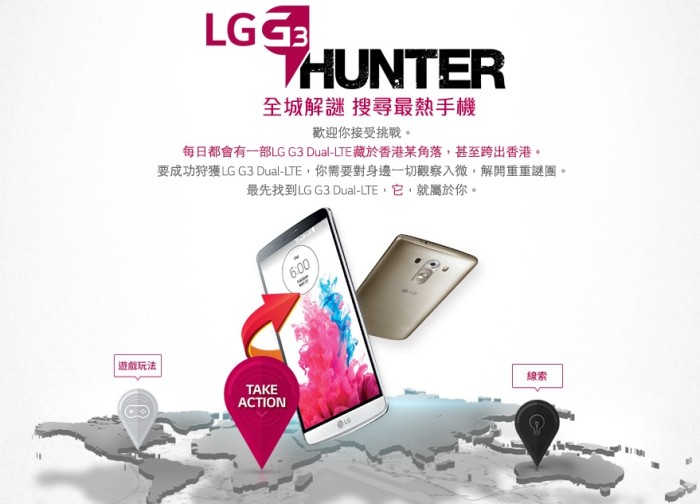 "We see this launch as a breakthrough because we are engaging with consumers in their language, and differentiate ourselves from other premium brands by creating a different user experience," said Kit Chan, manager of brand marketing team in LG Electronics Hong Kong.
"We hope our customers enjoy what we bring them – a delightful experience that make them smile."
"LG is a company that endorses a rather different approach to promote the product and focus on what is important to consumers – the experience. To us, demonstrating product functionality is easy, but creating user experience to consumers is another story," Joanna Go, director of client service of Havas Worldwide Hong Kong.
"We hope to trigger people's interest and conversation through a fun and exciting experience, have them share their encounter with LG G3 Dual-LTE and to amplify about it."
Credits:
Client: LG Electronics HK Limited
Creative & Media: Havas Worldwide Hong Kong
Creative Director: Raymond Wong
Senior Art Director: Wai Ng, Pat Lau
Copywriter: Keniz Cheng, Sing Chan, Fu Mui
Digital Assistant Art Director: J Yip
Digital Account Director: Vicki Chan
Associate Account Director: Eva Cheung
Digital Account Executive: Ivan Tang
Account Executive: Leo Chin