Letv, the Chinese video giant, is changing its name and logo as LeEco to reflect the company in a bid to build a vertically-integrated ecosystem of platform, content, device and application.
The new logo consists of the letters "L" and "E", while the four strokes comprise "LE" and each represent one of the four tiers of the Le ecosystem – platform, content, device and application.

The dot formed by the overlapping of two strokes symbolises the pivot of the entire ecosystem: EUI and Le fans. The three colours of blue, red, green and grey represent the integration of technology, culture and the internet within the Le ecosystem.
The reasons behind the revamp, the brand says that LeEco is looking beyond the Chinese domestic market to compete with global Fortune 500 giants, and is ready to make disruptive changes on the global scale.
The word "TV" has been eliminated from its sub-ecosystem logos, the company states that it has fully grown from a video website into a full-featured "eco world" with seven business ecosystems, including content, mobile, sports, internet, automobile and more.
The company unveiled its new brand logo during the global brand upgrade press conference under the theme of "a new eco world" in Beijing.
LeEco also announced the name change of Letv.com to Le.com, the adoption of its new global top-level domain "le.com".
Besides, it announced the global strategies of Le Vision Pictures and Le Cloud in 2016, reflecting it gears up for global expansion.
[caption id="attachment_122104" align="alignnone" width="600"]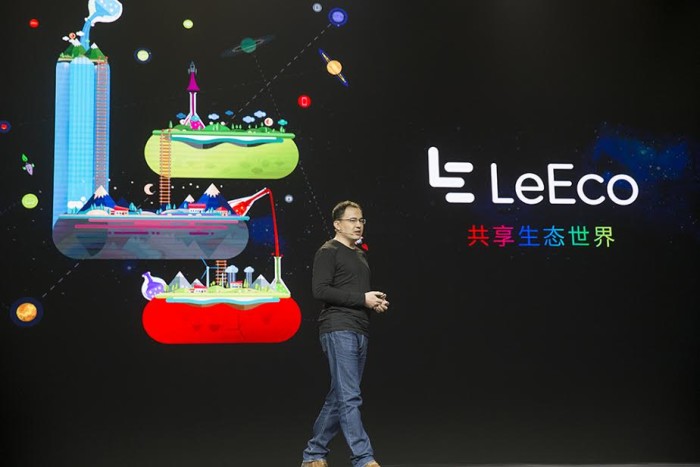 Ablikim Ablimit[/caption]
"Letv is where we started, but LeEco is our future," said Ablikim Ablimit, vice president of strategy at Le Holdings.
"We will create a more beautiful eco world with new value for our users. And our brand-new logo will bring users into this exciting world."
After the full implementation of LeEco's seven sub-ecosystems in 2015, LeEco's strategic focus in 2016 will be on globalisation, global open ecosystem, and achieving synergy among the sub-ecosystems, according to Ablimit.
LeEco's strategic priorities in this regard are countries and regions with huge potential for breakthrough innovation or with high-speed growth such as the U.S. and India. Meanwhile, it will also keep on expanding in Southeast Asia markets including Hong Kong.