Not sure which of your smartphones to launch first in a market in which you are making a comeback? Let your social media fans decide for you.
Lenovo has unveiled social media campaign moto VOTE in mainland China asking Internet users to pick their favourite Moto X look.
Lenovo announced in a blog post yesterday that it will be relaunching Motorola mobile phones in the mainland early next month.
When Motorola Mobility was still owned by Google, it had pulled out of China in December 2012.
The Motorola blog post published yesterday said, "Chinese consumers have long been at the leading edge of smartphone use, blazing trails in mobile messaging, media and more."
"With the Lenovo acquisition complete, Motorola is returning to China."
The Moto X will be offered first in early February, in time for Chinese New Year, while two new Motorola smartphones will be made available at a later date.
The most popular materials and colours selected by users participating in the moto VOTE campaign will be unveiled first in the market.
Ending on 26 January, the campaign runs on WeChat and Weibo.
On WeChat, users vote for their favourite material and colour for the back of the smartphone through an interactive mini-app.
[gallery link="file" ids="79227,79225,79226"]
The graphics in the mini-app leading up to the actual poll is heavily branded.
[gallery link="file" ids="79235,79234,79236"]
After taking part in the poll, users are told how their chosen look ranks among other participants and the three most popular looks so far.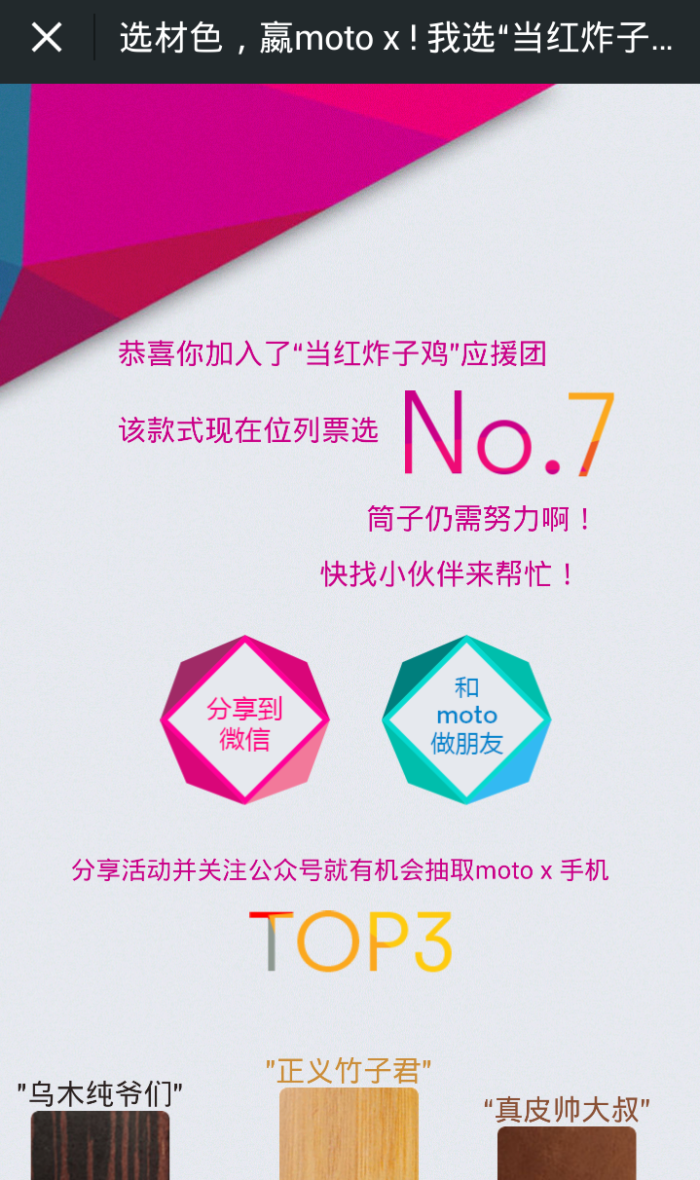 As an incentive to encourage people to take part in the WeChat poll, users who have voted and followed Motorola's official WeChat account are given the chance to win a Moto X phone featuring the most popular look.
The Weibo part of the campaign is much more about sharing the news of the poll and the brand's relaunch.
PC and mobile users are asked to follow Motorola's official Weibo account and re-tweet the brand's Weibo post about the poll for a chance to win a Moto X phone.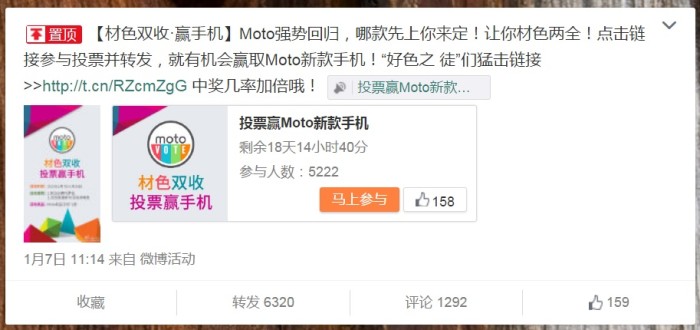 The idea of customisation will go beyond the campaign.  After Chinese New Year, Lenovo will launch its digital design tool Moto Maker, which allows users to customise the look of Moto X virtually, in mainland China.
Moto Maker was first launched in the US in August 2013 and the UK last September.