COMPANY:
KRONENBOURG
EVENT:
KRONENBOURG 1664 L'APERITIF FASHION
DATE:
7 NOVEMBER 2013
LOCALE:
MALAYSIA
EVENT OBJECTIVE:
To promote Kronenbourg 1664 as more than just being a "happy hour social drink".
EXECUTION:
As part of Kronenbourg 1664's strategy to celebrate culture, fashion, food and indulgence "the French way", it created a fashion show for young Malaysian designers.
"Looking at the Malaysian fashion landscape, we felt it was a good fit for Kronenbourg 1664 to take on an active role in developing the industry and provide a platform for young creative talents to showcase their work. That was when the concept of Kronenbourg 1664 L'Aperitif Fashion was conceived," Elynn Chuah, assistant brand manager for Kronenbourg 1664 told Marketing Events.
The event spanned a period of more than seven months. The Kronenbourg 1664 L'Aperitif Fashion series began with a call for entries to the Kronenbourg  L'Aperatif Fashion competition 2013. The competition was opened to all Malaysian designers below 30 years of age. Unlike other fashion shows, a unique circular runway was set-up with a full set of 45 models showcasing the top nine finalists' collection of five outfits each, to ensure everyone had a frontal view of the outfits while French-inspired performances from Pink Tan and EleColdXhot and DJ French Chris took the stage during intervals.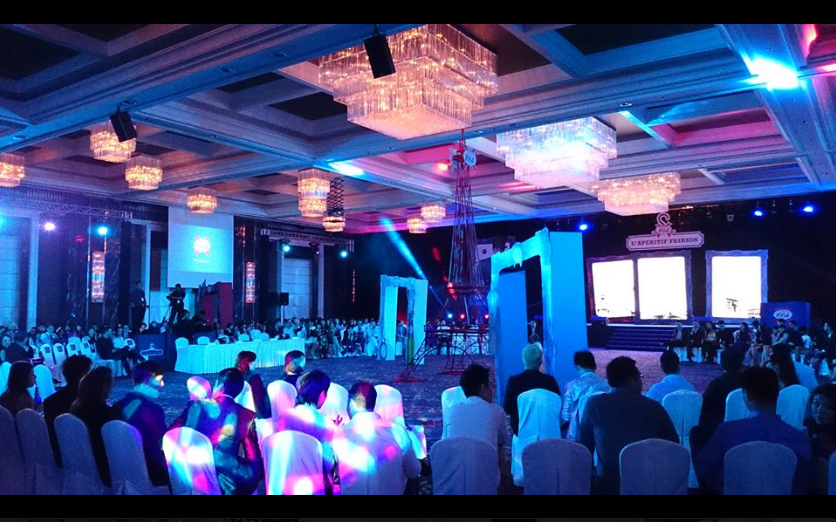 A bicycle parade to announce "Kronenbourg 1664 time" was also part of the event highlights. The brand also served chilled Kronenbourg 1664 to all its guests throughout the event.
Two jury sessions (the top 20 semi finalists and the top 10 finalists), three mentor sessions plus an online public voting segment brought the top nine finalists to a grand finale on 7 November at The Majestic Hotel Kuala Lumpur.
The brand extended invites to fashion fans, media, key opinion leaders, fashion designers for this event. An e-invite was sent to all invited guests together with a specially designed gift pack containing both Kronenbourg 1664 lager and Blanc, going along with the campaign theme of 'French Masterpieces'.
Pre-publicity efforts included a press conference to announce the competition where media were invited to witness mentor sessions between Kronenbourg 1664 L'Aperitif Fashion key mentor Gillian Hung and the nine finalists.
Interviews with Gillian Hung, Keith Kee and Juliet Yap, marketing director of Carlsberg Malaysia were also conducted to give deeper insights on the competition for year 2013.
A dedicated website was also running in conjunction with the competition this year to give the general public a behind the scenes view on the on-going progress of each finalist and their journey.
The event was also a platform to allow Kronenbourg 1664 fans an avenue to enjoy the beer in a different set-up outside of the clubbing scene, while still immersing them in the 'French Art of Pleasure'.
More images here:
[gallery link="file" ids="27772,27769,27767,27764,27763,27766,27762,27759"]
RESULTS:
The event saw a total of 350 guests turning up for the event with over 60 media titles and bloggers. Guests were from the fashion industry or were family members of the contestants, fans of Kronenbourg 1664 through initiatives on Facebook and website.
The event saw an increase of 20% in response from Facebook fans during the entire campaign.
LESSONS LEARNED:
One of the biggest challenges in organising the event was to approach renowned industry partners to co-sponsor this fashion event and offer the brand their expertise.
"Datuk Prof. Dr. Jimmy Choo O.B.E and MODA with Gillian Hung had supported us from the start of the planning of this event with the priceless prize of a three month internship at a top fashion house in London. (Paris could not be selected because of the mandatory French language requirement) as well as the promotion to recruit entries at fashion schools around Malaysia and members of their database," Chuah added.
L'Oreal Professionel, Diva Productions and The Majestic Hotel were also sponsors for the event in terms of makeup, hair styling and offering the venue.
The brand ensured that stringent quality control measures were put into place to ensure the delivery, sequence and flow of the event was carried out seamlessly as well.
"Several dry-runs were conducted to make sure everything was on point and the set-up of the event took place days before to ensure a proper outcome for the event day," Chuah said.
What were some contingency plans?
"We were very conscious that we might not have enough seats for all our invited guests to properly enjoy the show," said Chuah, adding that the seating plan had to be flexible enough to be added on or taken away if necessary.
"The circular catwalk meant that we had to be extremely vigilant in keeping the guests engaged at their seats as not to disrupt the models' walk," added Chuah.