KFC Philippines will be pulling out its Double Down sandwiches with a bang by offering a one-of-a-kind farewell bash to a lucky group of die-hard fans.
What started out as an April's Fools day joke in the US back in 2010 quickly became a fast food icon when it hit the stores. It first landed in Asia via the Philippines but as discontinued in the in mid-2012. It made a comeback in January 2014 together with a smaller version, the KFC Junior Double Down.
KFC Philippines announced in Facebook that the duo will be removed from the menu at an undisclosed date. To give back to its many followers, KFC decided to hold a photo contest which will invite winners to feast on the last Double Downs in the country.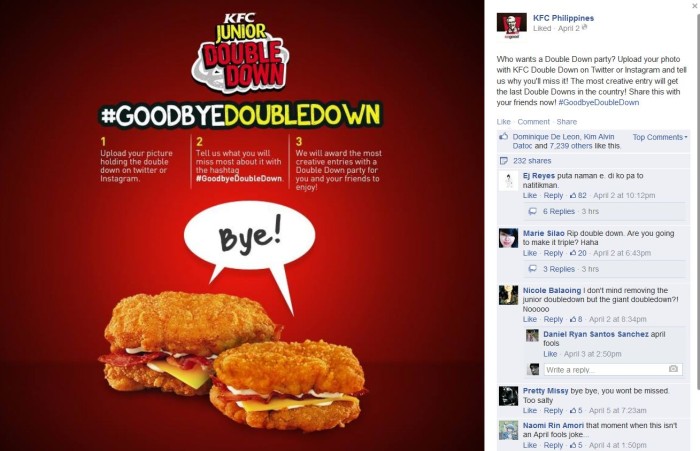 To win, fans need to post a picture of them with a Double Down and post it on Twitter or Instagram using the #GoodbyeDoubleDown together with text explaining what you will miss the most about the duo. The most creative entries will be treated to an exclusive Double Down party with their friends.
Double Down's farewell has received mixed reactions but a single post about the contest garnered over 7,000 likes and 230 shares. Some Facebook users smell something fishy, saying that the decision to pull it out was a marketing ploy to boost sales.