Monde Nissin noodle brand Lucky Me is the most chosen FMCG brand in the Philippines for 2013, replacing Nescafe in the latest Brand Footprint Rankings from WPP-owned research firm Kantar Worldpanel.
First launched in 2012, the report lists the "most chosen" FMCG brands across 32 countries based on Consumer Reach Points (CRP), a new metric about a brand's strength based on how many shoppers are buying it and how often.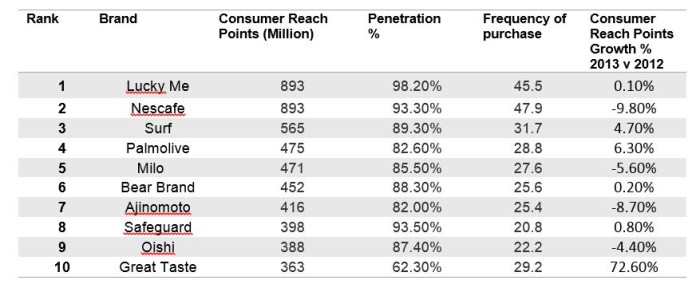 Stylized as Lucky Me!, the brand is tied with Nescafe in terms of CRP, equivalent to 893 million households choosing the respective brands. However, Lucky Me surpassed the instant coffee brand in penetration (98.2% versus 93.3%).
While Lucky Me is bought 45.5 times per year by the average household, Kantar noted that Nescafe fared better when it came to frequency of purchase at 47.9 times.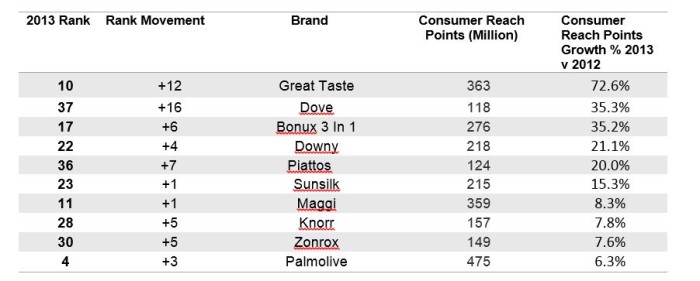 Unilever's Dove and another instant coffee brand Great Taste recorded remarkable improvement in the poll from 2012, climbing 16 and 10 places respectively. Great Taste enters the top 10 with the effort while Dove secured the 37th spot.
Noodles and instant-coffee brands are on the rise due to a growing demand for convenience brought by growing on-the-go eating habits among Filipinos, Kantar noted. Easy to prepare meals from Maggi and Knorr, snacks like Piatos and beverage brand C2 also benefited from the trend.