New World Development's K11 Group announced the naming of its latest flagship project at 3 million-square-foot Victoria Dockside as K11 MUSEA (pronounced: meu-see-ah), to be opened in Q3 2019, offering a world-class experiential art, culture and retail landmark.
The name is inspired by A Muse by the Sea for its retail concepts. Situated along the Tsim Sha Tsui Promenade, K11 MUSEA is the brand's most ambitious museum retail landmark to date.
Referencing research that reveals Asian millennials as "Super Consumers", prominent drivers of global consumption with spending power set to reach US$6 trillion by 2020, K11 MUSEA positions itself as an aspirational destination merging art, culture and commerce in Hong Kong and Asia, curated to offer visitors the premium retail experience.
The 10-storey K11 MUSEA is catered to the dynamic lifestyles of millennials by bringing together experiential retail, art, culture, entertainment and dining under one roof. K11 MUSEA will house an extensive selection of international brands, many of which will be concept stores and flagships debuting in Hong Kong with a new image, K11 said.
Being the crown jewel of K11's museum-retail concept, K11 MUSEA features many architectural highlights. The journey begins from the exterior, one of the world's largest living walls will be built for its facade, boasting a total surface area of over 50,000 square feet of greenery inclusive of the interior and exterior.
To the interior, it will feature a 2,000-square-foot outdoor Sunken Plaza, modelled on amphitheatres and installed with programmed water patterns and a misting system for a cooling effect. Together with a large 25-foot-tall LED screen above, Sunken Plaza offers a venue for outdoor cultural event such as film festivals and live music concerts.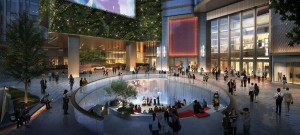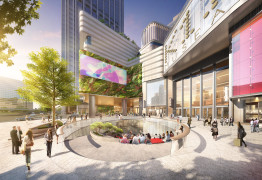 K11 MUSEA will also display a world-class public art collection throughout its premises when it opens, highlighting the brand's core values of Art, People and Nature.
Adrian Cheng, Executive Vice Chairman of New World Development and Founder of K11 Group said, "Its location, scale and concept are unique - the project involves leading architects as well as over 100 local and international designers and artists. K11 MUSEA will also bring great cultural content back to Hong Kong's Tsim Sha Tsui waterfront, which has lost its legendary charm since the late 90s. K11 MUSEA will be Hong Kong and Asia's new cultural destination, where global millennials can come together and discover their muse.