E-commerce giant JD.com has teamed up with the Shaanxi provincial government to build the world's first drone delivery network on a large scale and the two signed a strategic cooperation agreement.
The cooperation agreement, signed Tuesday in the provincial capital Xi'an, seeks to build an air base that will be built for large and medium-sized drones that can deliver cargoes across a range of more than 300 km.
The unmanned aerial vehicle (UAV, popularly known as drones) logistics network is aimed at cutting costs of dispatches to remote and mountainous regions, said JD.com's representative Liu Qiangdong, according to China Daily.
JD.com has already been using a drone distribution system in part since June last year in Jiangsu province, Beijing and in Xi'an.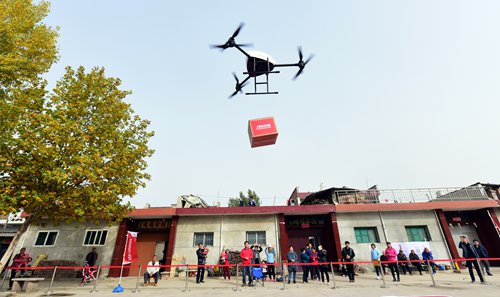 According to the company's estimates, the new distribution system will generate more than 10,000 jobs and a combined turnover of 100 billion yuan by 2020.
Other large e-commerce firms such as Germany's DHL and the United States-based Amazon have also conducted similar delivery tests using drones.
Shaanxi, part of the ancient 'silk road', is in the process of reinventing itself as one of northwestern China's key logistics centers.
The new drone service will boost regional growth and improve delivery services across rural Shaanxi.