Global internet users have just passed the three billion milestone, with numbers continuing to grow at around 5% year-on-year.
Currently, 75% of all users now access the internet via mobile devices, but the majority of users around the world still use both mobile devices and laptops / desktops. Meanwhile, 68% of internet users now access social media sites, with 45% of the world's internet users logging into Facebook in the past 30 days.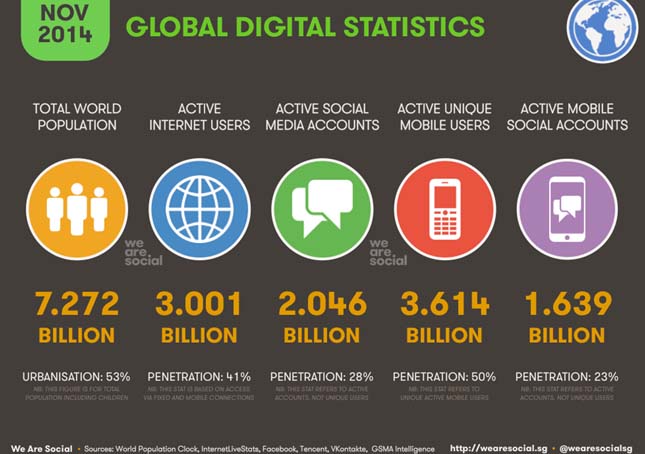 With digital no longer being a new medium, Simon Kemp, regional managing partner of We Are Social highlighted that what still seems strange is that marketers still do not dedicate resource to understanding digital opportunities.
"This is not just about 'advertising' though; it's about people's behaviours. Marketers are still wondering how they can build new ways of interrupting people through digital channels, instead of exploring digital in a complete marketing mix mindset," he added.
He added that it's almost inevitable that "we'll soon see the internet like we look at electricity; a fundamental part of our lives." With the advent of mass social platforms like Facebook, the 'global village' concept has become real and brands are a part of that village too, and all marketers now have the opportunity to interact and engage with every one of those people on a one-to-one basis.
"It's like the benefit of being a small shop that knows all its customers, but with the impact of truly global scale. These are the real opportunities we see in this three billion milestone. It's not about microsites, or a million fans on Facebook; it's about becoming a much more meaningful part of people's lives," said Kemp.