With incubators popping up around Hong Kong which cater to small-to-medium enterprises (SME), they add something different to the local business scene.
One particular genre of SMEs is the family business, usually run by members of a nuclear or extended family and passed on through the generations.
Family businesses are catching on to the importance of digital in their business strategy.
However, when it comes to actually incorporating digital into their businesses and measuring its outcomes, family businesses in Hong Kong are slightly behind in the game compared to their counterparts around the world.
PwC's Up close and personal: the family factor report surveyed 2,378 family businesses worldwide, including 52 in Hong Kong.
73% of Hong Kong respondents recognised the need to adapt their business to an increasingly digital world and 69% see moving to digital as a way to help raise awareness of their brands.  Slightly fewer family businesses globally recognised the same needs.
Among Hong Kong respondents, 17% cited technology as a key issue for them in the next 12 months compared to just 4% in 2012.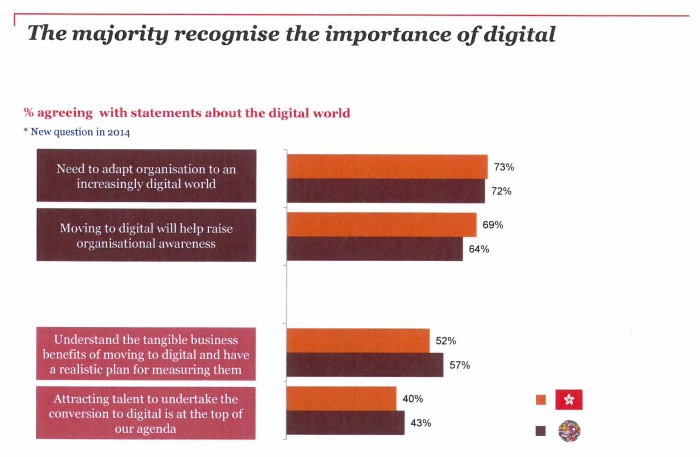 However, only 52% of Hong Kong businesses said they understood the tangible business benefits of moving to digital and have a realistic plan for measuring them, compared to the global percentage of 57%.
Among the Hong Kong respondents, 40% said attracting talent to undertake the conversion to digital is at the top of their agenda, slightly lower than 43% of family businesses worldwide.
In the global survey, 30% of the respondents belonged to the manufacturing industry, with 11% and 10% of respondents in the retail and wholesale sectors.
Most of the Hong Kong family businesses surveyed were first- or second- businesses that are less than 50 years old.
"Family businesses in Hong Kong tend to be very small or very large - a quarter of our respondents reported sales turnover of US$11-20 million while another quarter of respondents had sales revenue in the US$101-500 million bracket," Richard Sun, head of entrepreneurial group, PwC Hong Kong and southern China, said.
Perhaps due to the dynamic and fast-paced local business environment, the survey also found that Hong Kong family businesses prioritise short-term profitability over long-term success.
Kitty Chung, assurance and business advisory services partner at PwC Hong Kong, said, "In contrast, more mature markets look for long-term growth and see innovation as a way to achieve breakthroughs in their line of business."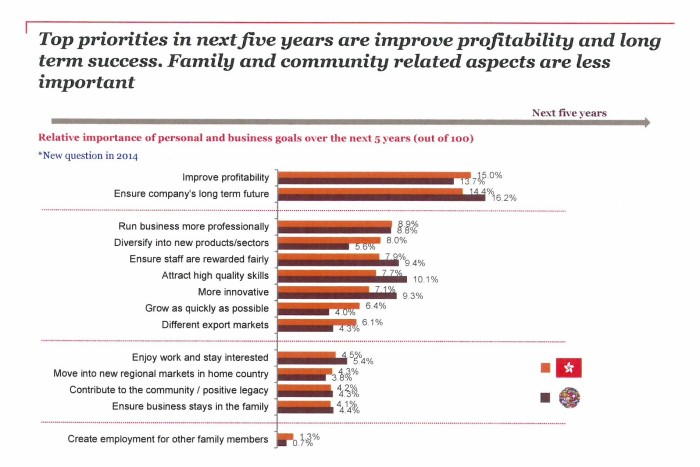 Innovation is increasingly becoming a concern for local family businesses in Hong Kong, however, with 27% of respondents saying that business and product development is a key issue for them in the upcoming year, up from 2% in 2012.
As family businesses grow or are passed onto the next generation, the demand for professionalism within the business also grows.  One reason is that family members may not have the talent needed by the firm.
"Professionalism means having a system, structure and procedures for doing things, but when the entrepreneur first started the business, they tend to do everything themselves," Chung said.
"Family businesses in developing markets are especially aware of the need for professionalism whereas the more developed the market, the less aware family businesses are that they need professionalism."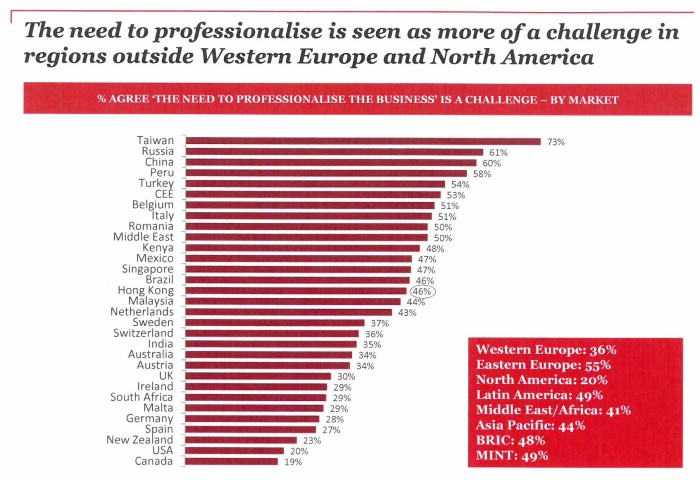 For example, Taiwan tops the charts in terms of the percentage of respondents agreeing that making the business more professional is a challenge, followed by Russia and mainland China.
Hong Kong ranks 15th in terms of seeing professionalism as a challenge, with 28% of Hong Kong respondents viewing company re-organisation as a key issue in the next year compared to 6% in 2012.
Succession plans are critical to the continued survival of the family business but only 4% of Hong Kong respondents have robust plans for who will take over the business next.
Slightly more Hong Kong respondents plan to pass the management of the business to the next generation, or to sell or float the company compared to the family businesses worldwide.
But while 32% of family businesses around the world have thought of passing ownership and management to professionals or others outside of the family, this thought only occurred to 13% of Hong Kong businesses, meaning that the Hong Kong entrepreneurs surveyed prefer to keep the business within the family.
[Image]: Shutterstock