Malaysian consumer confidence has risen in the second quarter of this year, according to a recent report by Nielsen. There was an increase of 8% from last quarter to 87% this year.
The country also jumped eight spots to be the 28th most confident country globally, previously being 36th. Singapore's consumer confidence level remain unchanged as per previous quarter and is ranked 25th.
Generally, consumers in Southeast Asia continue to remain confident with four out of six countries in the region scoring above the 100 pp mark. The average global consumer confidence stands at 98 pp, unchanged from earlier quarter.
Making the top 10 most confident countries globally was Philippines, Indonesia, Vietnam and Thailand.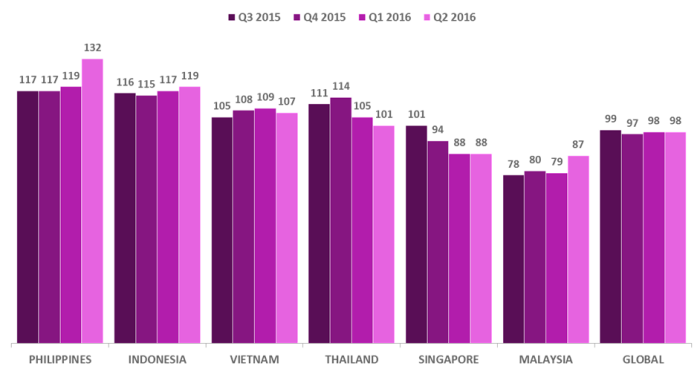 Optimism over personal finances
On the local job prospects, more than one third of Malaysian consumers feel positive over the next 12 months.  Nearly half of them surveyed also feel the same about their state of personal finances in the coming year despite sluggish economic environments.
The survey results also highlight other major concerns among Malaysians which include work/life balance, debt and political stability and the 2 major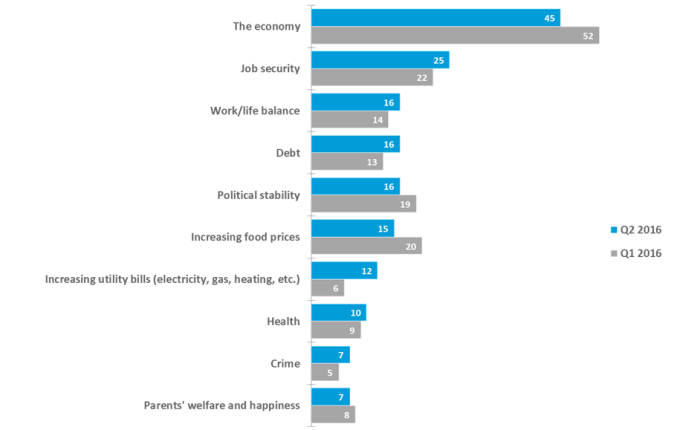 Southeast Asians come up top when it comes to saving
Southeast Asian consumers continue to lead globally when it comes to saving intentions. Consumers in Vietnam come in top as the world's most avid savers, followed by Indonesia in third place, Philippines in sixth and Malaysia and Singapore coming in at eighth.
Besides prioritising savings, about one quarter of Malaysian consumers have said they would divert spare cash towards investment of stocks/mutual funds and retirement funds. About two in five intend to pay off debts, credit cards or loans.
The study also showed that Malaysian consumers are also not shy about spending on holidays/vacation and new clothes despite a strong affinity towards saving any spare cash after covering essential living expenses.
Other areas of expenses include out-of-home entertainment (18%), new technology products (18%) and home improvements/decorating (17%).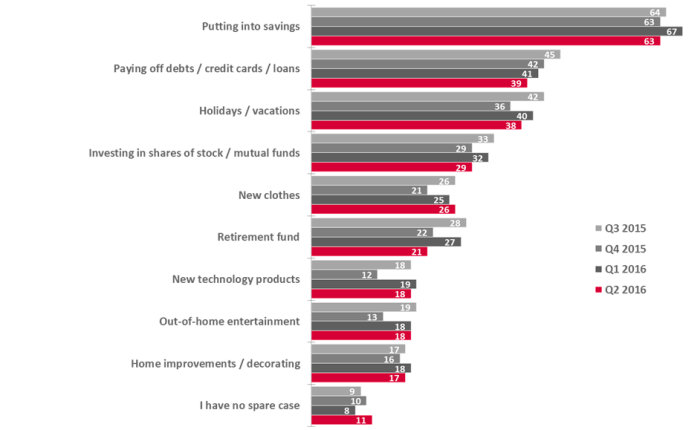 The survey also revealed that consumers in Malaysia would continue to reduce household spending even when economic conditions would improve with over four in five Malaysians changing their spending habits in the past 12 months to improve household saving (87%).
Over half of the respondents have reduced spending on new clothes (58%), switched to cheaper grocery brands (54%) and cut out out-of-home entertainment (52%) in a bid to save household expenses as compared to last year.
However, should economic conditions do improve, about one third of Malaysians would continue to try to save on gas and electricity (36%), spend less on new clothes (31%) and minimize out-of-home entertainment (28%).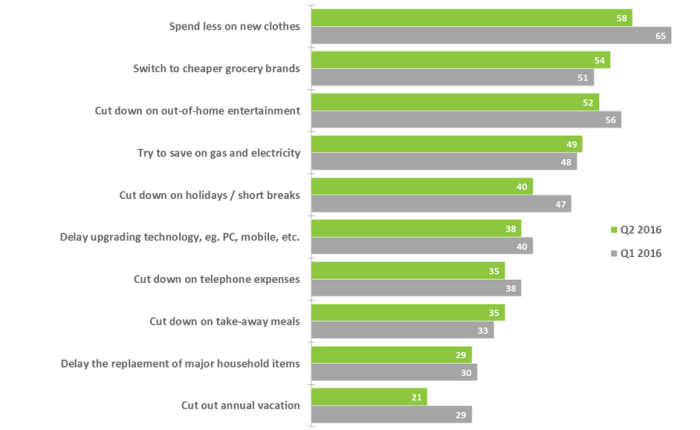 FMCG continues to prosper this quarter
Consumer purchasing power continues to climb in the Fast Moving Consumer Goods (FMCG) category in Q2 2016 compared to the same quarter in the prior year (8.1%).
All FMCG super categories registered positive trend with Household (10.5%) in the lead followed by Beverage (9.3%), Grocery (9.3%), Personal Care (6.2%), Health & Wellness (3.0%) and Snack & Confectionary (2.8%).
According to Richard Hall, country manager for Nielsen Malaysia, 2016 started strongly with a positive Chinese New Year period impact but slower growth was registered in February and March, which was unsurprising given the pre-GST stocking from the previous year. April proved to be a positive month as expected given this period a year ago is when we saw the short term impact of the pre-GST stocking and GST overall impact on consumer spending.
"Overall, if you take out the short term highs and lows caused by the GST implementation, we can see that the FMCG arena is looking slightly more positive than two years ago," Hall said.
The Nielsen Global Survey of Consumer Confidence and Spending Intentions, measures consumer confidence, perceptions of local job prospects, major concerns and spending intentions amongst more than 30,000 respondents with Internet access in 63 countries.
Consumer confidence levels above and below a baseline of 100 indicate degrees of optimism and pessimism. Within a country, period-to-period movements of seven points or more are considered statistically significant.