The term "innovation" is so frequently used in marketing that it risks losing its value as a motivating brand attribute. Yet a new study by global communications firm Ketchum shows that innovation still has a major effect on purchase decisions, brand preference and product pricing.
The 2015 Ketchum Innovation Kernel Study, its first multi-country survey to calibrate the importance of innovation as a brand attribute, shows that 68% of consumers are willing to pay on average 21% more for a brand they consider innovative.
Of the more than 4,000 working adults polled across the United States, United Kingdom, Spain, Mainland China and Hong Kong, nine in 10 also say that innovation is important to their brand preference.
The survey also shows that influencers play an increasingly significant role in shaping perceptions of innovation.
When consumers were asked where they get their trusted information about a company's innovation, they ranked the top four sources as professional reviews (56%), media articles (52%), advice from friends and adult family members (48%) and social platforms (37%).
The term "innovation" appears frequently in taglines for companies across a wide range of industries, and in the fourth quarter of 2014 alone, more than 250 books were published on the topic of innovation.
There're five ways for companies to consider real innovation: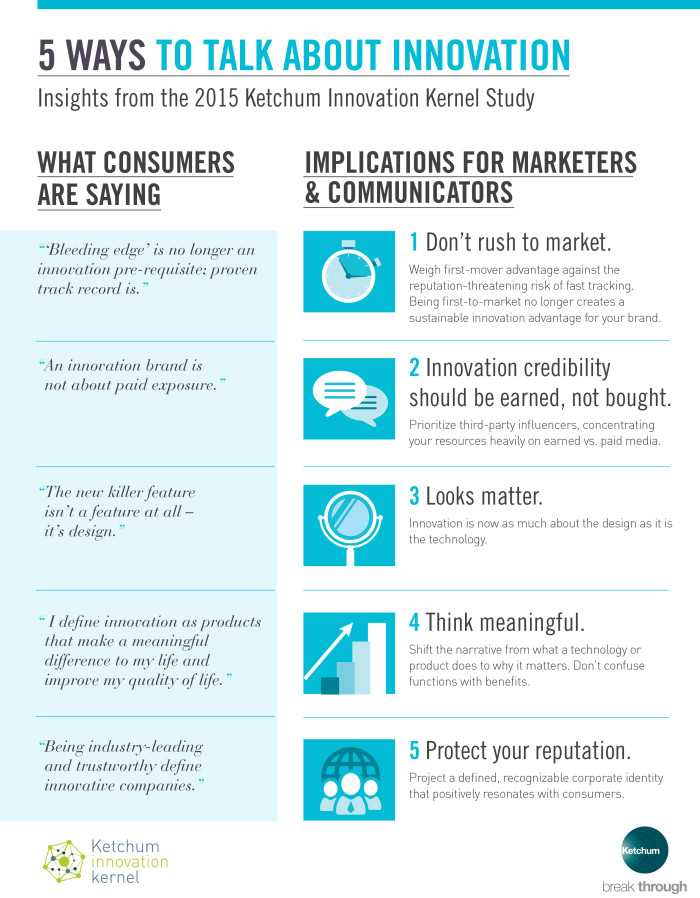 "The good news is that innovation has not been reduced to a meaningless buzzword – it still has the power to influence corporate and brand reputation and even command a higher price at the checkout counter," said Susan Butenhoff, partner and director of Ketchum's Global Technology Practice.
"But companies that want to tell their innovation story need to know that in the eyes of the consumer, innovation must be earned, not bought."