Started in 2010, Goodstuph has since carved for itself a strong reputation in the local creative scene. Headed by its outspoken founder Pat Law, the agency has since grown its portfolio significantly.
Law gives Marketing the raw take of what an independent agency needs to survive; the worst she's seen of adland and how that has lent to her philosophy of running GoodStuph.
Read also:
The Independents: Community by Victor Ng
The Independents: The Alchemy Partnership by Alvin Wong
The Independents: GOVT
The Independents: Blak Labs
The Independents: Asylum by Chris Lee
The Independents: Patrick Low's Goodfellas
The Independents: Formul8 by Fiona Bartholomeusz
The Independents: Wild Advertising & Marketing
The Independents: Addiction Advertising
The Independents: Up & Up
When was the precise moment you knew you wanted to do something on your own?
When I realised brain tumours cost a fair bit of money! I hate to be this uninspiring but Goodstuph was born out of a need to be responsible to the family – my dad has a benign brain tumour and I pay the bills.
I believe those who need to feed others stay hungry. That practical need has since evolved into something bigger. I personally think we have a civic duty as a local, independent agency, to keep doing good work and redefine the industry's perception of a local agency.
Which year did you first start up? Who was the first client you had on board?
We started in March 2010. Two weeks after business commenced, Nike knocked on our door and became our first client. It was a modest but significant project for us. The faith Nike had in us when we had nothing but a table donated by a fellow local agency set the tone for the rest of our clients.
What makes your agency stand out?
There are three values I hold closely to my heart, which I try to instil in my team. They include: 
Honesty
It's important to make a honest living, and to be extremely self-aware. A good number of us suffer from the Chihuahua syndrome – we have no concept of how small we are. When you're in this industry for this long, you can get caught up drinking your own kool-aid.
Here's an example - Don't you dare talk about how much "depth and width" you have as an agency when the last time we checked, none of your PowerPoint slides, oh no I'm sorry, regional toolkits, saw light. Ever. None of the eight local markets you're in bought into your manifesto. A Facebook Photo Competition, a strategy it surely is not. And most importantly, you didn't find a cure for cancer.
Bravery
Courage comes in different forms, and it isn't just about being brave with creativity. It's also about daring to own up to mistakes to clients and partners when shit happens. And if shit doesn't happen, the idea is probably not exciting enough.
Authenticity
You are who you attract, as the saying goes. And it is absolutely true. Most times.
I think we're best known for the above values. I think it's safe to say Goodstuph has heart and soul. Not for being the most awarded agency. Not for being "the best" or "the biggest" (seriously, what does that even mean? You're going to send 20 AEs to service my account?). Just an independent agency with heaps of heart and soul.
What was one of the toughest moments in running your agency? How did you overcome it?
The toughest moment for me was when I did not have the heart to fire, when I should have, two times over. I underestimated the fatalities a toxic employee can bring to a small agency. In some sense, while I have paid the price for my mismanagement, I'm glad it happened. When you pull the weed out of the garden, the flowers will bloom.
Were you afraid of failing? How did you handle it?
Failing is a matter of attitude. I see the act of failing as a lesson no university can teach. I just have to make sure I can always afford the education though. Haha.
How does it feel like to be your own boss? Could you ever work for someone else again?
No one can prepare for how lonely you'll feel being your own boss. There are certain rights I no longer have.
I no longer have the right to complain, because I have the right to make the change.
I don't have the right to show fear, because I have the right to instil confidence.
I certainly feel a greater sense of responsibility for my people. I don't go a day without thinking about "how many months can we go without new business". There is also a greater sense of satisfaction when I get compliments about my people from our clients.
Of course I can work for someone else again. I'd like to look forward to payday like I used to, as an employee.
Pluses and Minuses of being independent
 Minuses:
Nothing falls on our lap
We have to earn each and every account we have. There's no globally-aligned account that will land on our lap because of birthright.
We can't force other agencies or departments to recommend us (even when they hate us!) because of our relationship with them because we aren't related.
Near-zero budget for awards shows
Most of our award submissions are paid for by our clients. Our video production budget is disgustingly minuscule simply because there is no such thing as an Awards Show Budget here.
Pluses:
Staying hungry always
Given the lament I hear these days from my friends at the client's side on how arrogant their agencies are, or how they go "this is out of scope" to everything right now to a freaking telephone call, I'd like to think this is a point a client appreciates  – an agency who is hungry for his/her business.
We stay hungry all the time, which is great for creativity and productivity.
The culture of a real family
I killed the existence of job titles (you can't eat your name card) so with that, I minimise politics in the company. No one cares to kiss my ass unfortunately. That allows for a genuine kinship to form, and for us to function like a family. Nothing is stronger than family.
You'd never hear me tell any employee "So if you work hard, I will make you the general manager and you're so much better than XXX". I'd never play shark bait like that. I like working in an environment where we're not too preoccupied trying to cover our own asses and forgetting the work.
Freedom to experiment
While we need to be financially sensible, being independent also means we're able to experiment with any form of creativity we want to, without needing to justify any returns. Or submit a lengthy thesis for approval.
I have just given each of my people $50 each to "deck up their desks". Why? I understand the tranquility in looking at a desk that feels like home. Is there any real returns? I don't know but that's not why I did it so who cares.
When you first started out, how did you market your agency? How did you get clients on board?
There certainly wasn't a brand blueprint whatsoever to Goodstuph as a brand. We figured we should let our work do the talking.
We're not the type of agency who'd give log cakes for Christmas, but we'd give you naughty stone lions instead.
We're not the type of agency who'd do an Oscar-worthy show-and-tell with a million buzzwords, but we'd give you notebooks to calculate how douchey your agency is.
I may be a little presumptuous here but I'd like to think we throw one of the best agency anniversary parties around too. Or at very least, I think our goodie bag (see attached) is pretty legit.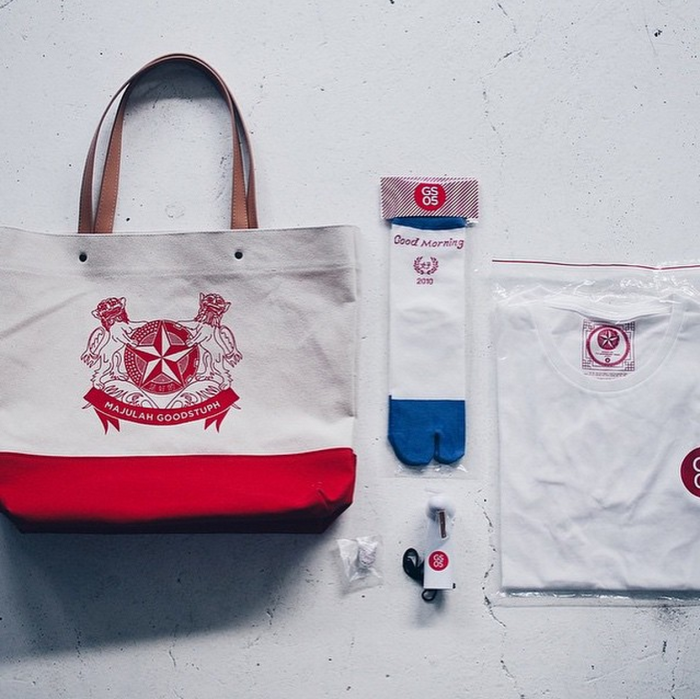 We have always preserved our authenticity as an agency. It takes a certain client with a certain personality to even want to consider working with Goodstuph. For as soon as we need to do a cold call, we would've lost half the battle given how distinct our personality is.
Most of our clients are referred to us through other clients.
We do get the random government invitation to tender for a content development piece but by the time we notice that email, we would've missed the submission deadline. Heh.
What was your first experience in the ad world? How do you think that shaped you?
I was barely 20 years of age when I entered the ad world, at the now-defunct AKQA Singapore.
In short, I witnessed a massacre of half the agency being retrenched in my first month of work because of financial reasons. Those who've been in the industry long enough know exactly how cold it gets when retrenchment happens. You're lucky if you even get 4 hours to pack up and say your goodbyes. At the end of the day, the bottomline matters the most.
I realised from a very early stage of my career that there is no way in hell I will let myself get in that situation if I was an employer. I don't hire unless I can keep that person for at least 12 months without new business.
What have you taken away from your years in the ad world and implemented in your current business?
Never sell your integrity at any price. I've witnessed many people giving their integrity away so cheaply it's quite appalling.
Your integrity is one of the very few properties you own that no one can take away from you no matter how they try. You can lose a job. You can lose a loved one even. But your integrity is for you to lose. So why the hell are you even putting a price to it?
Integrity is what kept both GoodStuph and my own career going strong all these years I reckon. I certainly don't think we'd be supported by our clients and partners should we not have integrity in our work.
What is the one thing start-ups need to remember in this market?
It really depends on context but assuming we're talking about business survival here, one needs to be mindful of the total addressable market, or total revenue opportunity available for his or her product or service. You can't possibly launch a product or service without knowing what's the revenue you can make.
What is one piece of advice you'd give anyone wanting to make it out on their own?
Ask yourself if you're willing to make mistakes at your own expense? Because that's the main difference between being an employee and an employer. The latter will always need to pay for his/her own mistakes… and actually, the mistakes made by his/her employees.
Would you be open to buyout?
Yes, definitely. If we find the one to marry, we will. It's not always about the rock but while we're at it, 2-carat and above please. Princess cut.
First client: Nike Singapore
Founding year: 2010
Founded by: Pat Law
Claim to fame: Having our HP Buildism Movement campaign featured on Fast Company, Trendhunter, and PSFK came as a real surprise for us. There were many firsts for us with that campaign.
Clients worked on: Ascott, The Balvenie, Bobbi Brown, Carlsberg, Citadines, Electrolux Asia-Pacific, Ettusais, Glenfiddich, Hendrick's Gin, Hewlett-Packard Singapore, HTC Singapore, La Mer, Monkey Shoulder, NARS Cosmectics, Neutrogena, Nespresso, Nike, Pan Pacific Hotels and Resorts, Park Royal, Park Hotel, Sailor Jerry, Sephora Asia, Shiseido, The Straits Times, United Overseas Bank