Forefront International has been a hot favourite amongst Malaysian marketers.
The agency, whick took home A+M's local hero award for brand consultancy at this year's Agency of the Year award show, vowed to aggressively expand its capabilities. Today, it has a staff count of over 70 and is currently busy with rigorous plans for further expansion of the organisation into a full suite of creative and digital agency.
Forefront's founder Darien Mah sits down with A+M to share the agency's start-up story and the tumultuous times he faced in the past.
(Read more interviews from Marketing's The Independents series)
When was the precise moment you knew you wanted to do something on your own?

Honestly, I did not go through a moment of enlightenment when I wanted to start something on my own. It was simply good timing as the company that my three initial team members and I were working for was not doing that well.
So, the four of us wanted to put our weight into something where we could make a difference. That is where we got to our name too, the four of us facing the unknown from the living room of an apartment - Four fronts to Forefront.
Which year did you first start up?
We officially started on September 2004 with our first client being The Royal Mint of Malaysia. We were tasked to design a website that was in line with their established stature.
https://youtu.be/5OYy_a0sxLg
What was the toughest moment in running your agency? 
One of the toughest moments was in 2009 where early success and over expansion brought us to our knees. We over hired and took on more clients than we could handle. On top of that, we accepted every job we could get our hands on, which proved to be a really big mistake. We ended up doing everything but being really good at nothing.
How did you overcome it?
After the "near-death experience", we chose to focus on one industry and be extremely good at providing services and solutions to that one particular industry. We found our niche, to be the full-fledged agency for property developers. We began taking control of every aspect that is essential in property advertising and we built a strong in-house multi departmental teams who are capable of producing top quality work. That's when I began to think property, live property and invest in property.
Apart from that, we started revamping our identity and how we look at talents by making them our priority. We invest heavily in recruiting and retaining talents. We foster and encourage a team that works like a family from diverse cultural background. You will find support, guidance, help and some say love as we learn to put the needs of other members above ourselves. We strive for gender equality where over 40% of our high achievers are women. Above all else, we look at the well being of our community by pledging 10% of our profit before tax to various charitable causes.
Were you afraid of failing?

Of course I was, but it is also the same fear that stops us from taking good calculated risks. Being afraid of failing is very common for someone new in the business industry; I was once very afraid of failing and afraid of letting my family down.
However, as time passed, I learnt that to succeed, you must first learn to accept failure and learn as much as you can from it. Therefore, when we lose a pitch, we take it as an opportunity for us to improve ourselves. We will sit together as a team and re-evaluate our strategy, proposal and even our pricing strategy. We will find out about out competitors and from there, we build a stronger and more resilient team to face adversity.
How does it feel like to be your own boss?

As much as one would think that being a boss is all great and fancy, there are a lot of frightening aspects to it. In summary, you are responsible for the well being of your team, you must grow their skills, their aptitude, their confidence to lead and of course their salary.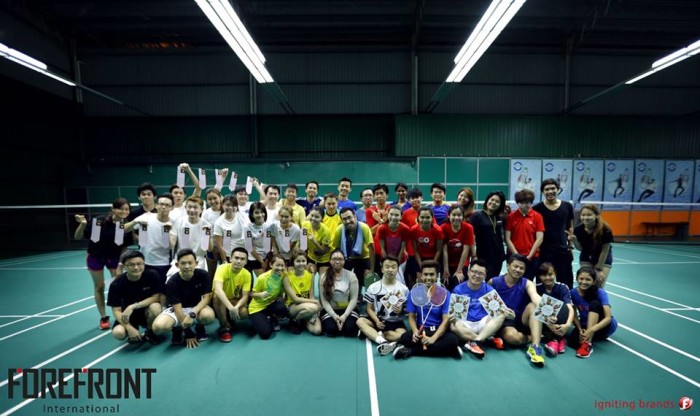 Everyone wants to earn more money and improve their quality of life and being the boss means you have to take care of not only yourself but for each and every member of your team. Back when Forefront was smaller in size, every end of the month was a big giant headache; you must take good care of your cash flow or be prepared to borrow from friends or family.
Could you ever work for someone else again?
The only reason why I would go back to working for another person would be to become an apprentice to a very successful entrepreneur; probably related to the property industry.
Pluses and minuses if being independent
When we first started Forefront, there was a goal to take on the world. We wanted to be independent and we take on every job that we secured and everything was almost entirely done in-house without any outside help. The pros to this are that we could control our own success or failure. But then again, if I could do it all over again, I would like to team up with other agencies and face the challenges together as there is really a lot more businesses out there than there is a friend.
To move forward, this year, Forefront has officially joined the 4As to learn from our peers and also, in ways that we could, share our experience and technical know how.
When you first started out, how did you market your agency?

It was a tough sell when you have no track record. But, rather than banging on every door and ringing every business phone numbers, we took the risk of aiming for bigger names and companies. We started our branding early and were very quick to produce our own brochures to promote our services. We created fancy name cards to be our icebreaker and we put in a lot of effort on every job we took on. You need to be willing to put in a lot more to give you the advantage when you lack the experience.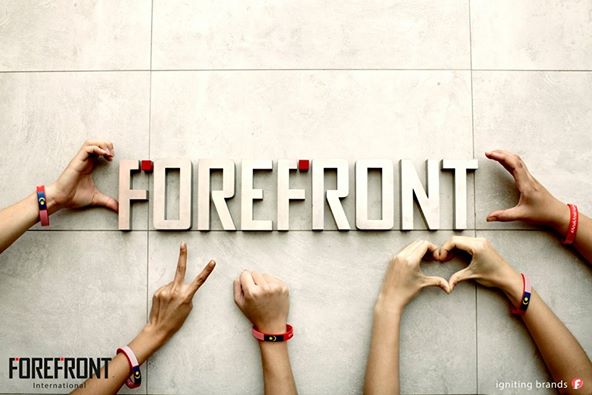 How have your experiences in the ad world shaped you?
You will face a lot of rejection. Rejection on your ideas, services and your fees. Rejection from talents after a job is being offered. On the plus side, the satisfaction that comes when you see your first ever full page full color ad on the National paper.
Our first ad was for Focal Aims in 2009 and then we designed our first jacket wrap for Pavilion Banyan Tree in 2011. Euphoria peaked when almost all the major publications in Malaysia was wrapped with the black and gold series ad of our client, EcoWorld in May 2015. (Ironically, EcoWorld bought Focal Aims to become a public listed company in 2013)
These growths have definitely made us more humble than before as we are grateful for the opportunities and it gives us conviction to strive and do better than before.
What have you taken away from your years in the ad world and implemented in your current business?
Just as an ad has to communicate a clear message, be trendy and captivate its audience, in our business, keeping our team members informed, giving them a vision, training and clear measurable objectives are what we strive for. We go on holidays together, attend team buildings as well as leadership trainings together. We are always seeking for the latest trend while keeping ourselves relevant to the current technology. Above all, we take our work with upmost integrity and build lasting bond with our clients.
What is the one thing start-ups need to remember in this market?
To answer the question of "what does my business stands for?"
Your company must exist to help solve a problem. What problems do you see in the market today and how can your product or services help to solve that? Take a good look at your services and examine if they exist simply because it is the industry's norm or can you be solving a problem that many are facing today. Some of our most profitable services come from filling a gap in the industry that many recognize but did not solve. With this, we created our own blue ocean where we don't have to face any competition. Find yours and keep looking as other will catch up.
What is the one piece of advise you'd give anyone wanting to make it on their own?
Watch before you leap and that you are never too young or too old to make that leap. For the long journey that you have been working for someone and not being appreciated or valued, chances are, if you are willing to put in a lot of hard work and sacrifice during the initial stage, you will succeed.
If you are lucky enough to find a company that values you and grow together with you, you may want to consider bringing the issue up with your boss. Some are willing to share the pie with you by you taking up more responsibilities.
[gallery link="file" ids="111932,111934,111935,111936"]
Would you be open to a buyout?
My short answer will be no.
Five year plan for the agency?
We are currently establishing our branches in Sydney, Australia and Bristol, UK. We are also looking for partners to share and learn from each other. We want to spread our technical know how and to export our services to other parts of the world.
Therefore, our five years plan would definitely be to grow our brand internationally. We would also love to replicate our love for property to other industry; we are currently looking at hospitality as the engine of growth of a good economy and also the automotive industry, as I am a German car enthusiast myself.