Local agency Up & Up celebrates its 12th year running in Singapore this year. A familiar name in the independents scene, founder and managing director Anand Vathiyar tells Marketing about the highs and lows of being an independent.
Read also:
The Independents: Community by Victor Ng
The Independents: The Alchemy Partnership by Alvin Wong
The Independents: GOVT
The Independents: Blak Labs
The Independents: Asylum by Chris Lee
The Independents: Patrick Low's Goodfellas
The Independents: Formul8 by Fiona Bartholomeusz
The Independents: Wild Advertising & Marketing
The Independents: Addiction Advertising
When was the precise moment you knew you wanted to do something on your own?
My wife and I had plans to work in China but SARS put paid to that. So while bumming around, an ex-agency buddy asked me to help him out with a pitch. That's how I was introduced to the independent agency model. It looked easy (yes, I was that naïve!) and we won quite a few pitches together. One day I got a call from another friend (later turned-StanChart-client) who wanted help on the Manhattan card launch because their main agency was chockablock. The catch was I had to be a registered entity to be paid as a vendor (she didn't know my other friend well enough) so I spoke to two of my art director friends who were at the crossroads of their careers and…that's how Up was born. Circumstance more than a serenity-now moment.
Which year did you first start up? Who was the first client you had on board?
We registered the company on 19 July 2003, on Kwan Ying's birthday (I'm slightly superstitious) and while technically, we started off by working with StanChart on several projects, to us Uppers (that's what we call ourselves) Discovery Channel is considered our first proper account because it didn't just fall into our laps. We pitched and won it against MNCs and retained it for close to 5 years. It helped that the Discovery clients were some of the nicest clients one could start an agency with (thank you Kevin Dickie, Penny Hill and Harry Tan). They were warm, engaging and receptive to our ideas, good pay masters and even submitted our work for awards and paid for medals and trophies when we won! A client like that today would get a shrine in their names.
What makes your agency stand out?
I know many agencies have a credo or that is supposed to set them apart. Some create their own OB markers (like no pitching). And some like Abbott Mead Vickers even went as far as to say they appeal to that one type of consumer. I wouldn't dismiss all of it as BS but market realities dictate hubris, especially here in Singapore.
For me, small agencies in Singapore are no different from small law firms or medical practices in that they are usually founded by that one senior counsel or that one specialist (brutal truth - there is no such thing as an equally yoked partnership). And clients come to you or get referred to you because of who you are and the knowledge, experience and expertise you bring to the table. It's as simple as that.
The challenge then is for you to set a standard and ensure your agency can deliver on it consistently while keeping clients happy beyond ad hoc projects and most important of all, create a culture that makes everyone who passes through your doors feel like they were part of something bigger than themselves. I'd like to believe that Up has managed to do most of the above fairly well in the last 12 years.
[gallery link="file" ids="106177,106180,106179,106176"]
What was one of the toughest moments in running your agency? How did you overcome it?
Like many small agencies, we have had our fair share of tough moments. From getting stiffed by clients (try $450k from one client!) to losing key accounts etc but to me the toughest moments have been people-related.
We are a people-business more than an ideas-business because you need people to make anything happen. So when people I invest in whole-heartedly turn out to be self-serving individuals or worse, develop a misguided sense of entitlement…those are the toughest moments in running your own agency. You feel let down. You even feel like asking these characters 'where do you get the ego/sense of entitlement?' but then you take a step back and become more contemplative. There will always be people who will disappoint you just as there will always be people who will warm your heart. In my 12 years at Up, the people who warm my heart have been far, far greater.
Were you afraid of failing? How did you handle it?
If you can make peace with the worst case scenario, there is nothing to fear.
How does it feel like to be your own boss? Could you ever work for someone else again?
The little pick-me-up of being your own boss comes at a very high cost that only business owners know/understand. There are more stressful 'own boss' days than there are rewarding 'own boss' days and I can totally understand why some people just pack it in and go back to MNC life again. If I were to do it, it would only be if my new boss is someone I truly admire and the challenge is irresistible.
Pluses and Minuses of being independent
The minuses are easy. If you think winning a business in a competitive Singaporean market is tough, try keeping that piece of business. It's tougher. Add to that growing client expectations, unreasonable young talents with unrealistic expectations, overall talent crunch and the perennial cash flow issue with bills, bills and more bills.
Plus points…there are a few but I would single out one in particular. It's when you get a text, a call, email or chance upon an ex-staff or ex-intern who tells you what a pleasure it was working at your agency and how to some extent, working at your agency has 'spoiled' it for them because they keep expecting a similar sort of environment and culture everywhere they go. Being able to create, manage and maintain such a spirit and culture – that's the biggest plus of being independent (soft strains of 'My way' by Sinatra).
When you first started out, how did you market your agency? How did you get clients on board?
We never marketed ourselves aggressively when we started out. Could be because we are Asians and we would rather let our work speak for us? Or the fact that trade publications back then were inconsistent and totally unreliable?
Today, there are highly visible trade publications like Marketing plus there's social media. Every start up/small agency seems to have a marketing plan and a social media strategy to market itself, taking every opportunity to blow up whatever minor achievement of theirs - from the hiring of a tea lady to staging this and viral that. Some small agencies have even built 'global reputations' this way. It's not like we will quibble if people write about us but we don't crave validation. We believe the best way to get new clients is for our existing clients or previous clients to tell others about us and how committed we are with each brief. Call us old-fashioned.
What was your first experience in the ad world? How do you think that shaped you?
I'm a TV-addict. I grew up with commercials and jingles but my first experience in the ad world was when I was in university. I was late for a movie at Lido when I saw an advertising exhibition on at Isetan. As late as I was, I stopped to watch some of the TVCs. I will not forget this one Anti-Aids TVC. A pencil writes the word 'AIDS', gets flipped over and the word is rubbed off by its eraser head. A super then says 'Use a rubber.' So simple and so good. It got me piqued and I started looking at ads with intent there after till I discovered Volume 6 of the One Show. I borrowed it from my cousin who was in production and I read every ad in that annual, even using a magnifying glass to read the unreadable bodycopy. It became my Bible and I'd say my early writing was heavily influenced by it. Patrick Low, Mark Fong and Jim Aitchison subsequently stepped up to the pulpit to shape my career and to some extent, my life.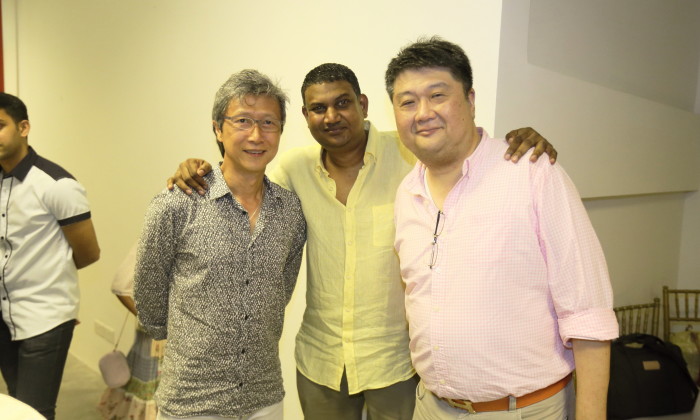 What have you taken away from your years in the ad world and implemented in your current business?
People work for people, not companies.
What is the one thing start-ups need to remember in this market?
There will be a smarter/faster/cheaper/crasser/hungrier/more mercenary* start up tomorrow.
What is one piece of advice you'd give anyone wanting to make it out on their own?
Be grateful.
To the client who takes a chance on you. To your colleagues who are going to burn the midnight oil because you want to impress your clients. To your industry partners who are game to extend their services and their understanding. To your friends and family who will be subjected to your incessant pleas for help for just about everything from social 'Likes' to lordknowswhat. And to anyone who does the smallest anything for you out of the goodness of his/her heart.
Be grateful. And say 'thank you' as often as you can. And mean it.
Would you be open to buyout?
I don't want to be coy and say 'it depends'. We have had our offers and we turned them down previously, maybe foolishly. 12 years on maybe it's too late.
The question is why would a big agency want to buy out a small agency? For its accounts? Maybe but I don't see another Batey Ads-SIA/STB/UOB type of situation happening again (look how that worked out anyhoo). Could it be proprietary assets, especially Content or Digital, but if a small agency had those, they would be better off speaking to a VC than selling out to a network or bigger agency (bye-bye advertising forever!).
So that only leaves the most plausible explanation – they want you (in a convoluted way) and your staff. For any number of reasons from setting up shop here to beefing up creative reputations overnight (think Sapient Nitro) to making inroads into an account etc. All of which means, you the independent guy would have to be answerable to some bean counter at a stage of your career/life when you are probably done being beholden to others. Screw that!
Campaign work  by Up & Up
[gallery link="file" ids="106196,106197,106198,106199,106200"]
Founding Year: 2003
Founded by: Anand A Vathiyar, Eric Siow, Daniel George Wan
First team: Anand A Vathiyar, Eric Siow, Daniel George Wan, Rachel Tan
First Client: Discovery Channel
Claim to Fame: 6 years on MOE during which we won Grand Prix at SPH Ink Awards, Campaign of the Year at Hall of Fame, Best TVC at Viewer's Choice and then some.
Clients worked on: 12 years worth…trust us, it's a long list.
Five year plan: To convert every Upper into a golfer so we can have the first-ever Up Golf Championship, with a bald Tiger Woods as my caddie.