Lufsig, a toy wolf, which based on the wolf in the tale of the Little Red Riding Hood, has shot to fame after a protester threw the toy Hong Kong chief executive CY Leung, who has been characterized as "wolf" for his notorious political behaviours.
For the first time in Hong Kong, the toy launched by Ikea for charity, has sold out of stock in three days, with online auctions running at close to HK$700 yesterday.
The name Lufsig carries a profane Cantonese pronunciation of "Lo Mo Sai", whose homonyms in Cantonese bears a striking resemblance to an obscene phrase associated with female genitalia.
The overnight craze has dominated headlines on local mainstream media and has been much disputed on social media and discussion forums. The popular wolf even has a dedicated Facebook page with nearly 30,000 likes to date.
Yet, what most inspiring is how Ikea reacts to the outcry.
On 1 December, Ikea shared the image of Lufsig from New Monday Facebook Page, once again stating the pledge to donate HKD10 to charities "Save the Children Hong Kong" and UNICEF.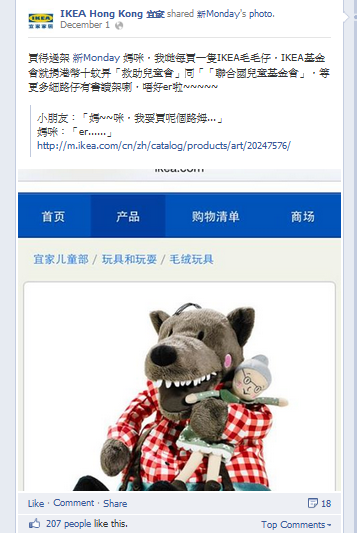 In response to the escalating dispute over the profane name, three days later Ikea posted an ad visual on the page, rhyming in Chinese: "it was a 'punch the air' moment when the craze erupts, then shortly it became a joke" (translated).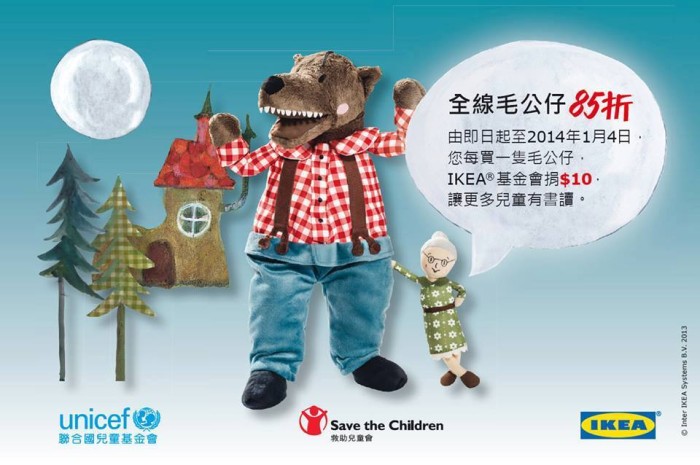 Apart from the humorous posts, it was also the instant and friendly replies to comments which ultimately brought Ikea supporting votes from the public.
One of the commenter wrote: "For charity, we must support Lufsig!"
"Job well done Ikea's PR. What a decent and generous remedy for the crisis," another wrote.
Ikea, its PR agency Edelman as well as its social media agency social@Ogilvy declined to comment on the outcry.
The figure has now become a social symbol of protest against CY Leung, the Hong Kong's chief executive. See more Lufsig-inspirated creations circulating on social media below:
[gallery link="file" ids="30388,30400,30391"]