We know word-of-mouth works. Numerous Nielsen reports have said that the method is one of the most effective when targeting consumers. Most recently, Nielsen cited that 86% of Malaysian consumers trust word of mouth recommendations.
But is there a way to elevate this even further?
According to Craig Johnson, Nielsen's head of reach solutions for Southeast Asia, North Asia and Pacific, word-of-mouth recommendations can continue gaining the most trust from consumers especially if combined with digital formats. Johnson pointed out that mastering online word-of-mouth marketing techniques can result to quicker and viral reach.
"Brand marketers can widen the circle of trust of consumers by engaging passionate brand advocates to amplify their message and giving them a compelling reason to talk. Trust is fragile because if trust is broken, your advocates also have the power to damage credibility and reputation," Johnson added.
The study also added that respondents that trust the recommendations of people they know claim they take action on these opinions majority of the time.
Traditional formats still relevant
Meanwhile, traditional ad format continue to be among the most trusted forms of paid advertising in Malaysia. More than six in 10 Malaysian consumers indicated their trust in ads published/broadcasted in newspaper (68%), magazines (64%), television (63%) and radio (62%).
"The proliferation of online formats has not eroded trust in traditional (offline) paid channels. TV still delivers the highest unduplicated reach of between 85% and 90%," Johnson said.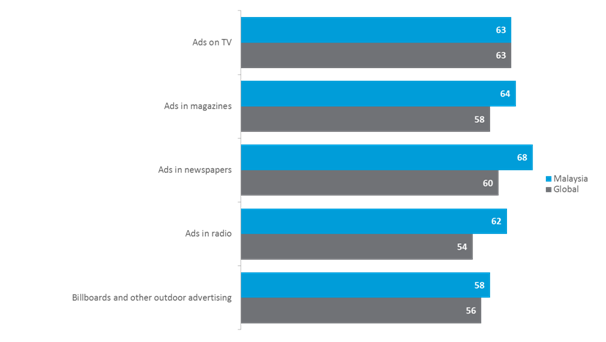 Paid online and mobile ads get more credibility
While word of mouth works for Malaysians, what doesn't seem to do so well is trust in online video ads and ads in social media. Only  47% of Malaysians trust ads in these mediums.
About two in five Malaysian consumers trust online banner ads and mobile ads while a third of Malaysians say they trust text ads on mobile phones – all below the global average of 42% (online banner ads), 43% (mobiles ads) and 36% (text ads on mobile phones).
Among online paid ads, Southeast Asian consumers (57%) put the most trust on served ads in search engine results.  The credibility of ads in social networks and online video closely follows.  Trust in online video ads recorded an increased in four out of six markets in Southeast Asia with the Philippines and Thailand leading the way followed by Vietnam and Singapore. In contrast, Malaysians are the only consumers in Southeast Asia that recorded a decline in trusts on online video ads.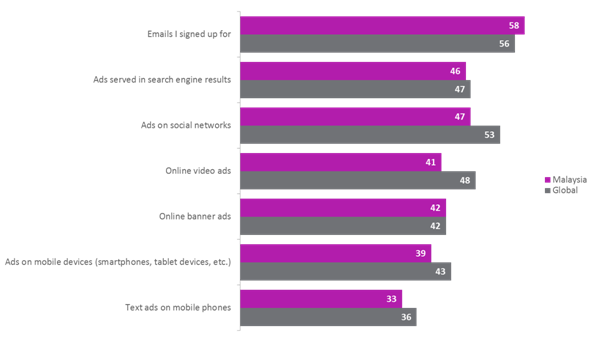 Most impactful ads
Meanwhile, advertising that used real-life situations (51%) was the most likely to resonate among Malaysian consumers while ads that are value (49%), family (47%) and health-oriented (43%) also fared well.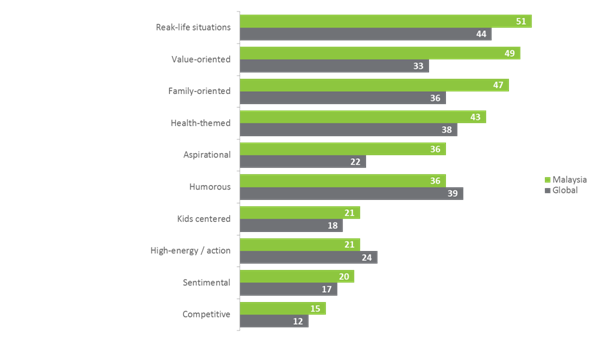 "Advertisements that feature relatable situations and comedic relief, and those which focus on family, values and health greatly appeal to consumers in Southeast Asia and urge the most positive responses," Johnson said.
Nielsen's Global Trust in Advertising Survey polled amongst more than 30,000 respondents with Internet access in 60 countries to gauge consumer sentiment in 19 forms of paid, earned and owned advertising mediums. The results identify the ad formants resonating most strongly with consumers and those that have room to grow.