Linking digital marketing with ROI is a challenge faced by many brand marketers.  For marketers of beauty brands, how digital savvy should their campaigns be?
eCommerce is often seen as the most direct way of tracking the path-to-purchase of online users.
According to the Hong Kong Beauty Survey 2014, while only 19% of its 781 respondents purchased beauty products online, 72% have intentions to make such online purchases.
Facial skincare products were the most popular, with 72% of respondents planning to purchase them, followed by make-up and body care products planned to be bought by 39% and 29% of respondents respectively.
The survey was conducted by Yahoo Hong Kong between June 12 and 26 this year and the respondents were women aged 15-55 who filled out questionnaires online.
The degree to which online content influences purchases
Apart from eCommerce purchases, how much influence does online information have on the customer's decision to purchase a beauty product?
89% of the respondents believed their purchase decisions were affected by online information and 60% visit beauty websites for additional information after they purchase the products.
But in terms of leading to an actual purchase, there is a need for integrating online and offline communication channels to drive offline purchases by online users.
In the survey, the most common path-to-purchase was the user reading about a beauty product online and then buying the same product from a retail store. This was the case for 47% of respondents.
25% of respondents learned about beauty products in a retail store and bought them there.  Even among the 26% of respondents purchased products online, half of them learned about the products at retail stores.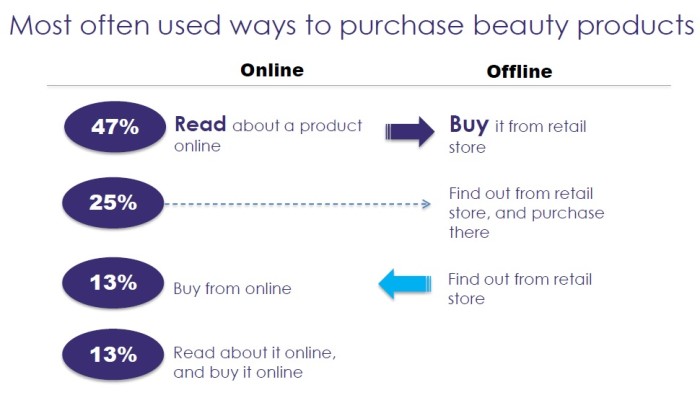 Word-of-mouth was found to be the strongest influencer on respondents, affecting 57% of respondents.  Meanwhile, information on the internet exerted about the same influence on respondents as shop displays, affecting about a third of the survey respondents each.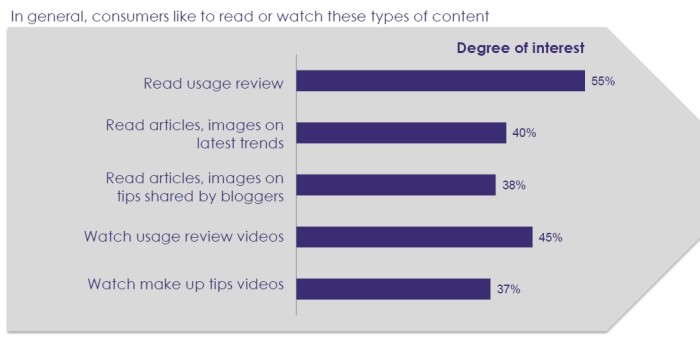 Respondents were most interested in text-based and video reviews by users who experienced the beauty products.  The peak time when respondents consumed beauty-related content online was weekday evenings between 6pm and midnight.
The growing need for mobile-first online content
In terms of devices, PC consumption of online beauty-related content remains strong, with 62% of respondents browsing such content from a desktop PC or laptop, closely followed by 57% of respondents who browse such content using smartphones.
Rico Chan, VP and GM of Yahoo Hong Kong, said, "Many marketers create campaigns for PC first and then make them available mobile.  Mobile is often an afterthought."
"Instead, marketers should create a mobile landing site first, and then think of PC next."
He adds that the ratio of offline versus online marketing expenditure currently stands at around 80:20.
"In three years' time, I predict that the ratio will change radically to 50:50," Chan said.
Beauty Database: a collaboration between Yahoo Hong Kong and UrCosme
In April, Yahoo Hong Kong collaborated with the decade-old Taiwanese beauty portal UrCosme to launch Beauty Database in the search engine's Yahoo Style section.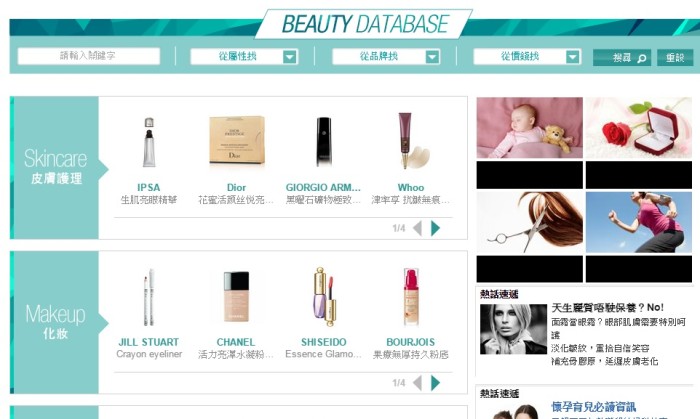 This came after Yahoo Taiwan kicked off a similar collaboration with UrCosme, owned by iTRUE Communications, in 2010.
It comes as no surprise that the online portal is investing in the beauty industry.  The Hong Kong Beauty Survey 2014 shows that the average respondent spends HK$5,205 on beauty products every year, which increased by 27% compared to last year.
"The UrCosme database contains user-generated reviews, whereas Yahoo Style features curated content.  The database makes our content offering more comprehensive," Chan said.
Meanwhile, the addition of Hong Kong brands and user-generated reviews enriches the Taiwanese beauty portal's database of products and reviews.
Justin Chen, founder and CEO of i-TRUE Communications, said, "Before we launched Beauty Database in Hong Kong, around 6% of our daily web traffic came from Hong Kong.  This collaboration allows us to more easily get in touch with Hong Kong users and it helps build up both of our brands."
The database has been mainly marketed by Yahoo using search engine optimisation techniques.
Linking the database with eCommerce
Chan says data about user consumption of beauty-related content can be correlated with deals in Yahoo Hong Kong's eCommerce platform in the future.
In addition, UrCosme features a function where users can create a wish list of what they want to buy. The beauty portal has also worked with eCommerce sites in the past.
"It came from a realisation that many of our online users visit eCommerce platforms after frequenting UrCosme," Chen said.