With more media channels to consider today in the marketing mix, getting the right configuration to optimise distribution can be challenging. That being said, a new CMO study by Nielsen has found once again that digital media spend to be on rise, as traditional media spend declines.
In the next 12 months, 82% of marketers agreed that digital media spend is set to rise, with only 4% forecasting a decrease. Respondents also expect on average a 49% increase in digital media budgets in the next 12 months, with some forecasting the amount to be higher.
Meanwhile for traditional media in the next 12 months, marketers surveyed are expecting a decrease in their budgets. Less than a third (30%) is expecting an increase, and 44% are expecting a decrease. There will also overall be a 5% decrease in traditional media budgets.
The report also found 43% of marketers also planning to increase spending with their agencies over the next 12 months.
According to Nielsen, this is likely due to their confidence in their agencies' ability to deliver a strong return on investment, as reported by 84% of respondents.
Confidence in measuring ROI
In terms of measuring ROI for digital media, 74% of respondents were found to have some degree of confidence. However, only 26% of respondents reported high confidence in the ability to quantify digital media ROI, out of which only 4% of respondents were extremely confident.
Taking into account the respondents' high digital media effectiveness rankings, the findings suggests that marketers may believe they are generating good ROI, but are not fully convinced they are measuring it accurately, Nielsen explained.
For traditional media ROI measurement, 59% of respondents reported some degree of confidence. Similar to digital media, a smaller share of marketers (23%) reported high confidence. 42% reported that they lack confidence, which suggests that challenges remain in quantifying ROI of traditional media campaigns, the report explained.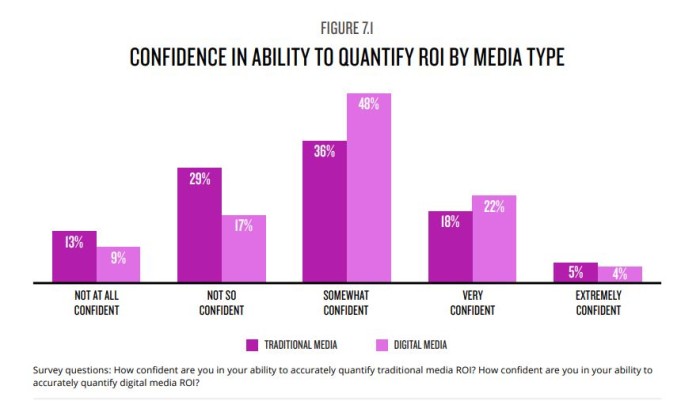 Media channel importance and effectiveness
Out of all the different digital media channels, search (79%) and social media (73%) were considered extremely important by most marketers. A high majority of marketers also found online video (64%) and email (59%) to also be very or extremely important channels. The lowest ranked digital channel found was OTT-TV/CTV (26%) followed by mobile display (44%). That being said, this may change as the new channel matures, Nielsen explained.
For traditional channels, more than 51% of respondents ranked linear television as either highly or extremely important, with 30% of respondents ranking TV as "extremely important". Other traditional channels (e.g., print, radio, direct mail and out-of-home) we're ranked as either highly or extremely important by a quarter or fewer respondents (20% to 25%). Meanwhile, direct mail saw 25% of respondents considering it to be highly or extremely important.
[gallery link="file" ids="227332,227329"]
In terms of effectiveness, search (68%), social media (68%) and mobile (59%) were ranked as "very" or "extremely" effective by large majorities of marketers. Only 28% of marketers ranked OTT TV/CTV as a "very" or "extremely" effective channel. This is in line with how respondents ranked the perceived importance of the channel.
For traditional media platforms, both print (62%) and TV (61%) are generally considered effective by large majorities of marketers, with around 45% percent of respondents thinking the same for radio.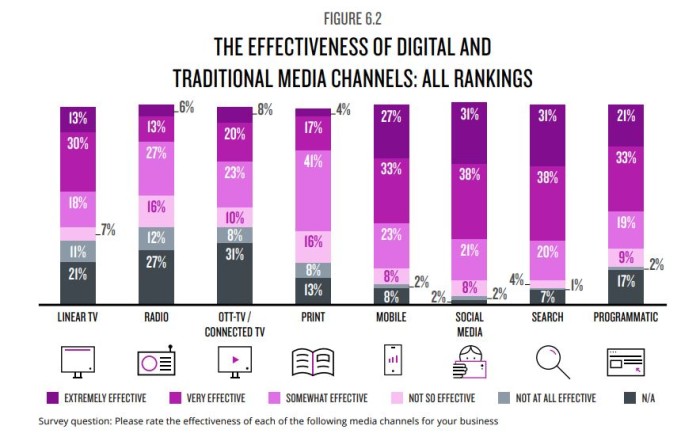 For the study, Nielsen interviewed top US marketers at for-profit companies across automotive, consumer packaged goods, retail, telecommunications, technology and travel industries. This was from the period of January 2018 to March 2018, and was completed by 165 total respondents. Around 82% were director-level or above, and 41% were VP or senior executive level.
(Photo courtesy: 123RF)