The idea
Life by city'super, a sister retail chain under LOG-ON from the city'super group, rolled out a social media campaign to welcome its new flagship store in Shanghai in June.
Targeting post-90's generation who live in metropolitan cities in China, the company looked to social media, especially WeChat and Sina Weibo, to reach out to target markets.
Life by city'super is famous for its design-oriented items that sometimes consumers buy the products even without knowing their real usage.
Social@Ogilvy then came up with a social media campaign dubbed Dubbed Real Or Fake Product Demo Challenge, which aimed to boost fan growth and drive foot traffic to the new store.
The Execution
The campaign carried 10 short video clips/GIFs on the brand's WeChat and Sina Weibo accounts, with each demonstrating a unique usage of the product. The hints are almost unrealistic that users couldn't easily tell whether it is real or fake.
The bite-size clips were tailor-made for mobile devices, the most popular channel for accessing social media.
After the demo users were encouraged to make a bet on rather the product description is deceptive. The correct responses have been rewarded for a RMB¥10 shopping coupon, whereas the wrong responses could still receive RMB¥5 shopping coupon.
The Results
Life by city'super's fans base on Sina Weibo grew by 21% while its engagement on the platform reported 312.8% higher than pre-campaign period.
As for WeChat, the company account saw a 60% fans growth and message readership increased by 150% comparing to pre-campaign period. Its message open rate on WeChat also increased by 80%.
The total reach of the campaign reported more than 150K and open rate reached 25.5%.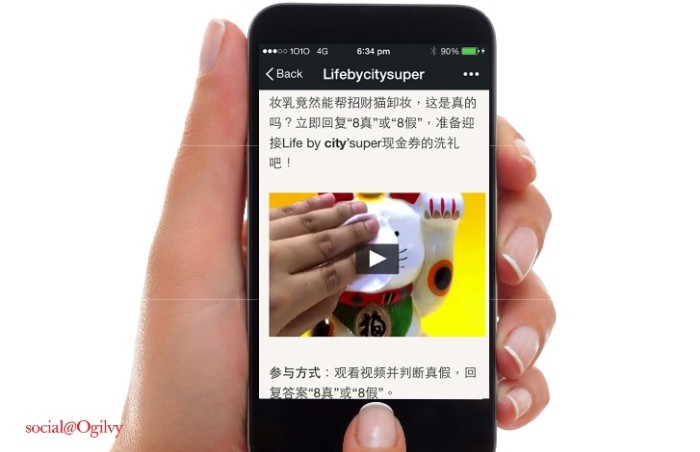 Credits:
Creative: Social@Ogilvy
Creative direction: Rudi Leung
Creative strategy: Nagisa Konomura
Design and animation:Max Ip
Copywriting: Amanda Li