It is common for online travel agents to partner with numerous loyalty programmes to give a wide range of consumers a bang for their buck. While such a strategy may work initially, it is not always foolproof, especially in today's fast-paced digital environment.
Agoda was one of the online travel agents that was seeking a well-rounded loyalty programme to boost customer acquisition rates. As such, it partnered with NTUC Link to increase its overall brand equity among Plus! members and drive revenue.
The campaign led to NTUC Link winning Best Use of Consumer Insights/Data Analytics – silver at the Loyalty & Engagement 2018 Awards.
This post was done in conjunction with NTUC Link.
Problem
Agoda had partnered with multiple loyalty programmes to give customers the flexibility of choosing the right avenue to earn reward points for themselves. However, with this fragmented approach, how could Agoda:
Harness precise feedback?
Increase customer acquisition rates?
Given the dynamic digital operating environment Agoda is in, a comprehensive loyalty programme was needed, substantiated with compelling consumer insights to increase momentum.
Solution
NTUC Link's Plus! Loyalty programme helps to address Agoda's requirements by using its deep data capabilities, large customer base of 2.1 million members, and well-established LinkPoints rewards currency. Using data analytics models, NTUC Link helped Agoda with personalised offers, resulting in more engaged customers who received promotions based on what they needed. This in turn resulted in better responses and higher sales conversions for Agoda.
Objective
For NTUC Link, Agoda's requirements could be framed into three key objectives:
To optimise campaign results to drive customer response and increase Agoda's revenue.
To deliver a more precise understanding of customer behaviour through consumer insights.
To increase Agoda's overall brand equity among Plus! members.
All these culminated with the ultimate goal of increasing travel bookings made by Plus! members through Plus! channels.
Execution
From February to April 2018, Link's in-house team of analytics experts embarked on a series of test campaigns to better identify and describe Agoda's core audience.

Photo caption: Data models consisting of "look-alike" algorithms were designed to help Agoda identify new customers that resemble its existing top customers.
Once Agoda's most valuable core audience was identified, the next step was designing communications that were appealing and relevant to this audience.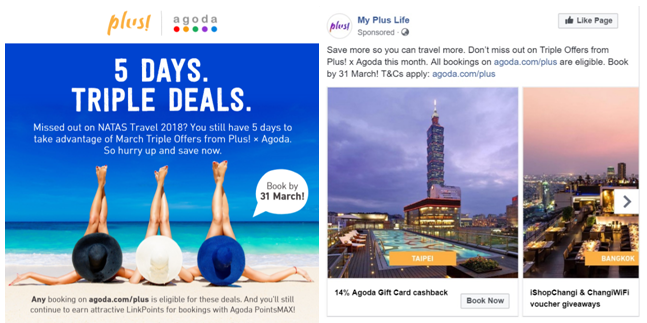 Photo caption: An example of an EDM (left) and a Facebook ad (right) used in the campaign. Their content included cashback, voucher giveaways, lucky draws, hotel room discounts and other attractive offers.
NTUC Link has helped Agoda achieve the following:
Identify who their main Plus! customers are, and what they look like.
Plan for specific content or offers that will resonate well.
Utilise the data for re-targeting on other digital channels.
Reach out to new audiences (customer acquisition).
Results
Over the three-month campaign period, Agoda saw a sharp increase in loyalty-driven sales. The number of loyalty-driven bookings made through Plus! channels increased by 100% month-on-month, with a total of a 200% improvement over only three campaigns.
In addition, EDM open rates increased from 16% in February to 28% in March 2018, which showed an improved relevancy of content to customers.
With Link's strong data analytics capabilities and unique access to data covering the end-to-end customer journey and life cycle, Agoda was able to use people-based marketing to improve its brand recognition and performance through precision customer targeting.