When it comes to perceptions of health and well-being, Hong Kong lags many of its Asian counterparts across the areas of happiness, financial security and overall health, a new study has found.
But Hong Kong, more than any other country surveyed, is far more critical of its state of well-being, with a high number of people grading themselves in a more harsher light.
The results, from a new annual well-being study commissioned by health insurer Cigna and conducted by Ipsos, seeks to identify and monitor the factors, motivations, perceptions and attitudes that impact an individual person's, as well the region's, health, wellness and well-being.
The inaugural report covered 6,000 consumers across the five Asian markets from China to South Korea, Thailand, New Zealand and Hong Kong.
Surprisingly, China ranked first in the survey's '360° Well-being Score' league table of Asia Pacific countries, with almost one in every 10 ranking their overall well-being as 'excellent' and a further 33% as 'very good'.
This compared starkly with Hong Kong, where less than a third rated their overall personal perceptions of health and well-being as being either 'excellent' or 'good'.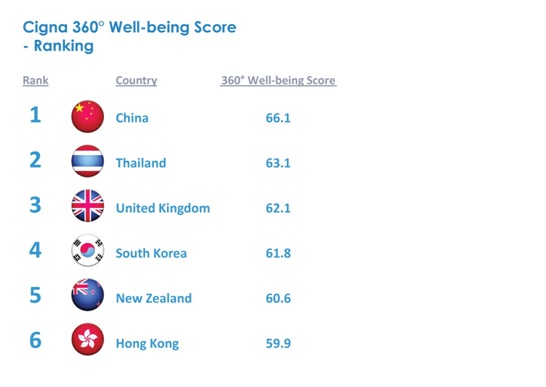 Hong Kong respondents' top concern was the increasing cost of living, with just 21% of those surveyed feeling 'positive' about their financial health and less than a quarter prepared for unexpected medical expenses.
The survey suggests, in comparison with other countries, that 'sleepless' Hong Kong citizens believe they are physically, emotionally and financially stressed, overweight and even somewhat socially isolated.
"However, when we drill deeper into the findings we find that, in their somewhat negative perceptions, they may be doing themselves something of a disservice," Austin Marsh, CEO and country manager of Cigna Hong Kong, said.
"In fact, compared to other markets in the region, Hongkongers, in reality, are doing far better in regards to their overall physical health, financial, family and social well-being than they believe they are."
Hong Kong citizens have, he said, a healthier weight than regional average, 49% and 41% respectively. Fewer Hongkongers consume alcohol on a regular basis than people in any other country in the region and almost a quarter (24%) say they never drink.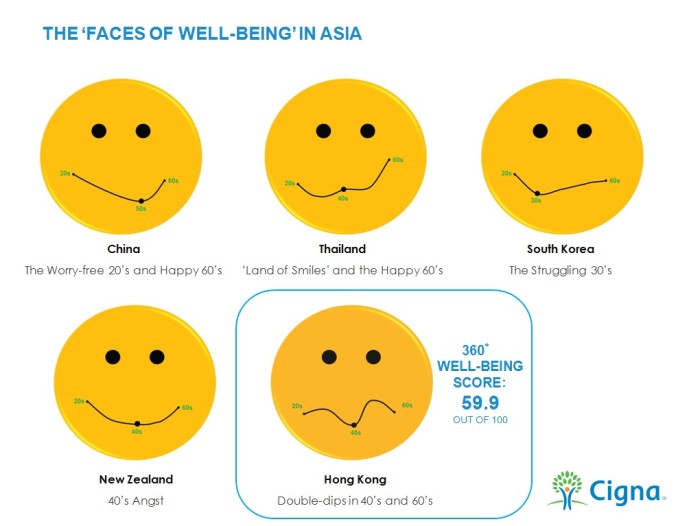 Arjan Toor, chief marketing officer, international markets at Cigna, said there was increased awareness about health and well-being in Hong Kong and hoped the survey would offer more in-depth insight into its customer base.
The company. he said, is also looking to use the survey as a key strategy to better understand customers needs and develop more targeted health products.
"The health ecosystem is changing, people are much more empowered about their state of health," he told Marketing.
"There's also a lot of discussion about healthcare reform in Hong Kong and we felt it was the right time to launch this survey."
Toor said Cigna will expand the survey to more markets in coming years.