Hong Kong consumers remain highly engaged with brands on social media, a new study from Waggener Edstrom shows.
While 87% of respondents get their information about products and services from social media, 82% say they would even click on an advertisement or read advertorials.
The study reveals the relationship between brand storytelling online and key consumer behaviors such as brand advocacy, spending, and engagement across different business sectors such as travel & tourism, mobile devices, consumer electronics and appliances, food & beverage products, personal care products and healthcare.
Among all business sectors, connected consumers appear to have the strongest relationship with mobile device brands with 83% respondents follow brands in the category. It is closely followed by consumer electronics and appliance brands by 71%.
On the contrast, healthcare category sees the weakest bond with social media users with only 41% of respondents actively follow healthcare brands online.

Meanwhile, social media users in Hong Kong who follow mobile device brands are 33% more likely to recommend brands, products, or services from the sector to friends.

Notably, the study also shows Hong Kong social media users are the likely to participate in contests and giveaways on social media of 88%.
Overall, Facebook remains as the front runner in the social media realm in APAC with 48% of respondents get on the social network "very frequently".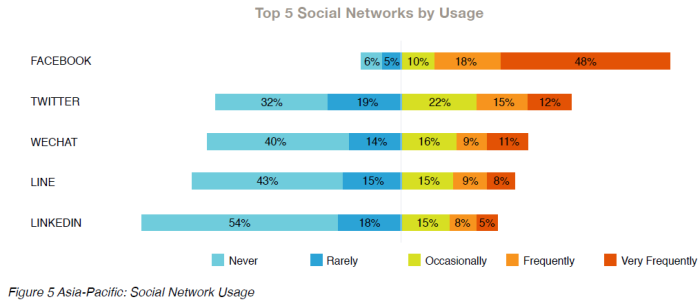 Stephen Tracy, APAC lead at Waggener Edstrom's Insight & Analytics (I&A) practice said communications professionals across Asia find themselves under increasing pressure to prove the ROI of their investments in digital content.
"Our new research reveals a clear relationship between brand storytelling online and increased consumer spending, referrals, and engagement. Put simply, the more consumers engage with brand content, the more they spend on brands."
Zaheer Nooruddin, vice president of digital at Waggener Edstrom's Studio D in Asia-Pacific, added the real take-away of the study is that brand owners must focus on creating rich, compelling, and relevant storytelling for their audiences in 2014.
"If brands succeed with creating consumer engagement through high-quality content marketing across Asian markets, then the ROI will follow."
Entitled "The Impact of Brand Storytelling Online", the study surveyed over 2,200 consumers between the ages of 15 and 60 across Australia, China, Hong Kong, India, Indonesia, Japan, Philippines, Singapore, South Korea, and Vietnam.