There is a gap between corporate recognition of the importance of digital transformation and the execution, as most Hong Kong companies are spending on "basic" activities like website and content development, e-commerce, and CRM, according to Google Hong Kong's "Smarter digital city whitepaper" conducted by Nielsen.
While 79% of Hong Kong corporates are currently managing digital initiatives, the research suggested that companies who are managing digital projects are primarily focused on "obvious" digital capabilities, such as marketing and digital content development, e-commerce, and customer relationship management.
Conversely, fewer companies are making investments in newer and more relevant technologies including big data/analytics, machine learning, and other digital initiatives that they say are crucial to personalising consumer relationships and driving digital utilisation.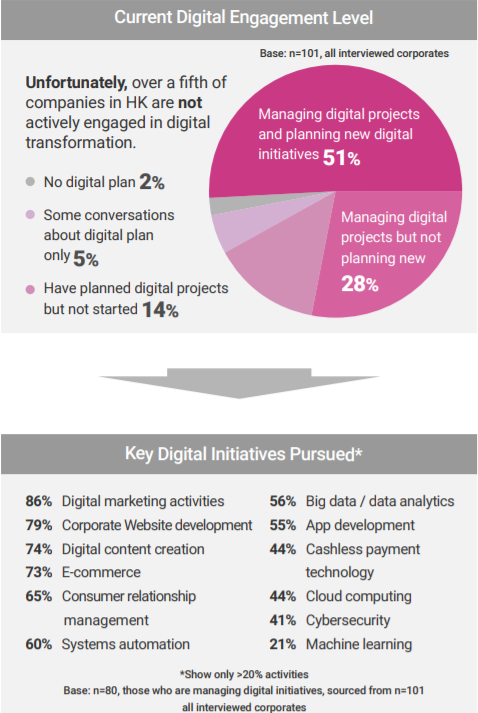 Meanwhile, the data indicated that 83% of the companies will use external specialists in the future to help with digital solutions. Google suggested companies must look for internal and external expertise, for example, companies may want to train-up digital marketers while partnering with external data analysts and machine learning engineers to maximise efficiency and impact. Strategic partnerships and alliances can help companies move faster through their transformational journey. This strategy enables companies to be agile and highly responsive to a fast-changing landscape.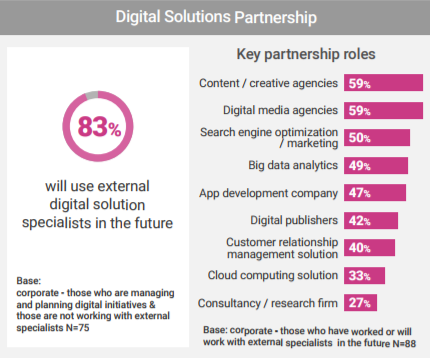 The whitepaper also stated that only 1 out of 5 consumers are highly satisfied with their digital experience with brands. Whereas, highly engaged consumers (18%) are three times more likely to be "highly satisfied" with digital transformation than those who are less engaged.
The search company said for the companies who understand that digital is critical to their future, most are already considering to invest in forward-looking technologies to satisfy consumer needs.
The study aims to identify some of the most pressing issues holding back Hong Kong's digitisation, while also exploring the city's areas of opportunity.