Ogilvy Shanghai and Holiday Inn have just launched the fourth chapter of its brand platform "Moments of Joy". The platform is designed to tell insight driven stories that bring work-life-integration pain points of contemporary Chinese travellers to life.
This year, the brand evolved beyond telling scripted stories. Holiday Inn said the campaign was crafted out of true stories from real Holiday Inn guests and the on-ground crew.
"The strategy behind this move signifies not just an evolution of the brand, but also a shift in the relationship with our guests," said Nina Kong, lead campaign strategist at Ogilvy Shanghai.
The campaign was kicked off with a hero story told as a micro-documentary. It centres on a real spire elite member (the highest possible loyalty status within IHG Rewards Club) who for the past 20 years, has been traveling with his family in Holiday Inn hotels around the world, creating genuine moments of joy together.
https://youtu.be/MpyJH5ReYD8
Around the story are more than a dozen other real moments of joy from China's everyday travellers, from guests and staff members in Holiday Inn hotels around the country.
The campaign also saw a non-conventional approach to popular OOH media touch points. A 3D "smile sofa" installation brought the Moments of Joy platform to life in Shanghai Pudong Airport as well as selective Holiday Inn hotels, enabling travellers, guests and staff to experience their own moments of joy.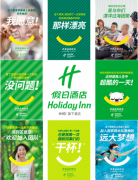 "This year's Moments of Joy campaign was creatively stimulating because it was also the inauguration of Holiday Inn's new, vibrant visual identity," said Darren Crawforth, executive creative director of Ogilvy Shanghai.
"Launching a brand refresh of this caliber in Greater China was a fulfilling challenge. We had a myriad of playful and energetic elements to help bring out the dynamic side of Holiday Inn. With every real story we tell, Holiday Inn's joyful personality shines bigger and brighter. Getting to define how IHG's biggest brand in Greater China speaks and looks moving forward was inspiring and a rewarding experience," he added.
Lin Wang, vice president, brand and marketing of IHG Greater China, said, "This year the Ogilvy team took consumer-inspired storytelling one step further by building this campaign around real people who have personally experienced our hotels, guests and staff alike. We also gave Holiday Inn's own staff the stage to share their personal moments of joy based on their experiences with guests; this was as an effective way to engage consumers with our core asset – our people, and it also conveys the spirit of going above and beyond for guests that is ingrained in our DNA. At the end of the day, the ambition is to create a world of authentic moments of joy that Holiday Inn has helped people experience."
Credits
Creative: Ogilvy Shanghai
Executive creative director: Darren Crawforth
Art direction: Beryl Chung, Manly Zhang
Production house: MediaMonks
Account: Martin Verdult, Stefanie Liew, Sylvia Zhang, Staphine Huang
Strategy: Alex Runne, Nina Kong