Chinese conglomerate HNA Group is running a corporate social responsibility campaign #ShareMoreDreamMore in Times Square, New York in a bid to fight world hunger.
The interactive billboard is located at 719 7th Avenue, where visitors are invited to participate in a mobile game and help raise awareness for food scarcity in Ghana.
When the participant waves their mobile phone at the billboard, they will see the amount of food multiply on the outdoor screen, and the number of participants who support this cause will be shown. More than 10,000 participants already showed their support within the first three days of the campaign launch.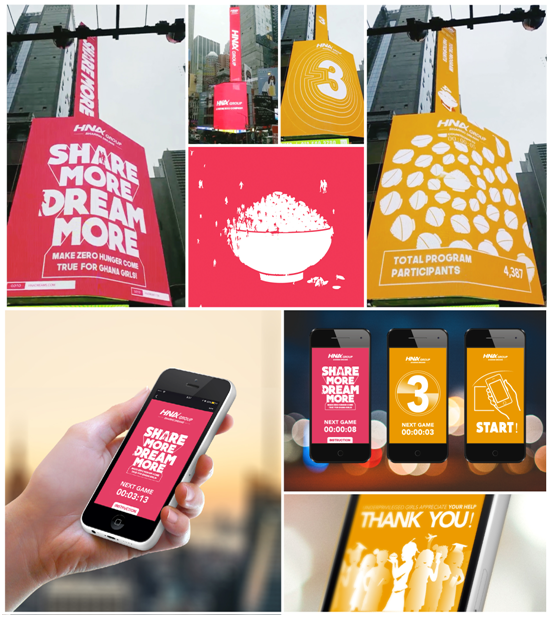 The campaign launched on 22 May and runs live through 4 June 2017.
The Times Square outdoor ad with a creative competition initiated by Worldwide Partners, "To support this initiative, our partners at Billups and Outfront Media assisted us in securing media space in New York's Times Square to feature the creative idea that most effectively demonstrated the integration of the out-of-home medium, social media, mobile and commerce to activate a brand. WE Marketing's campaign for HNA Group was selected among entries from all over the globe not only for the campaign's innovative use of digital technologies to drive consumer engagement, but also for the campaign's inclusion of a philanthropic overlay", says John Harris, President and CEO of Worldwide Partners.
"We want to use this opportunity to showcase a Chinese global brand with a strong commitment to social responsibility and helping people around the world. Our creative idea is to use a fun and engaging mini-game at NYC's most popular tourist attraction to raise the awareness of hunger in Ghana and let more people share the dream," said Viveca Chan, Chairman and CEO of WE Marketing Group.