PwC has released its 'Global entertainment and media outlook 2018–2022' study, and the first thing that stands out is that despite traditional media's dominance in revenue (defined as both advertising and consumption spend), in Hong Kong, total digital revenue overtook non-digital in 2017 on advertising and consumption spend at US$4.5 billion and US$4.3 billion respectively.
And digital revenues will play an important role and expand at a compound annual growth rate (CAGR) of 5.1% at US$5.8bn in revenues by 2022. Top segments in predicted CAGR are OTT video (14.1%) Internet advertising (9.9%) and Video games and e-Sports (4.9%). This growth rate is slower than the APAC average of 8.2% and the total industry growth is even further behind - 2.1% for Hong Kong (vs. 4.4% in APAC and 7.2% in China), whereas the projected growth rate at this time last year was 3.0%.
The internet advertising segment will grow at 9.9% CAGR to reach US$732 million by 2022, PwC said, while mobile internet advertising fuels growth in internet advertising, to account for 39% of revenues by 2022. It overtook display search in 2016, and expected to grow at 14.1% CAGR to hit US$285million in 2022.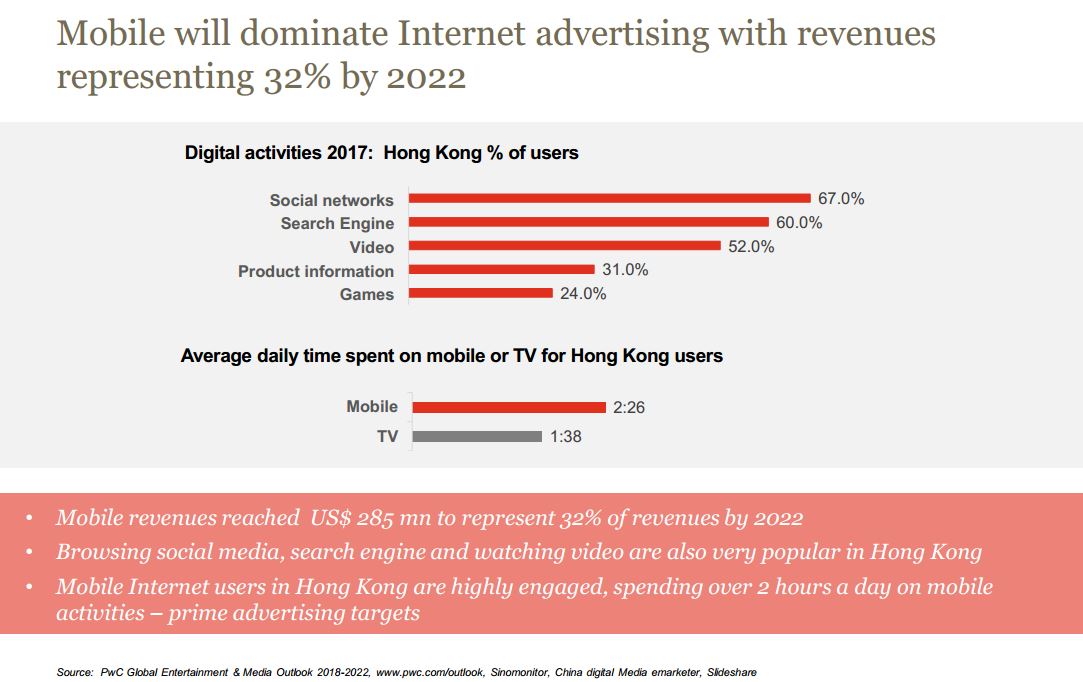 "Mobile internet advertising growth drivers include video-on-demand, live streaming, and online shopping, forces driven by high speed networks and higher resolutions with the 5G roll out that will improve the user experience.  This encourages advertisers to trial technologies such as live experiences to monetise mobile consumers," said Cecilia Yau, PwC Hong Kong entertainment & media leader.
Despite internet advertising in Hong Kong reporting significant growth of 9.9% CAGR, traditional advertising through print continues to dominate spend at US$1.2 billion compared with US$456 million in internet advertising revenue in 2017. On the other hand, Hong Kong's OTT video revenue growth of 14.1% CAGR will outpace global growth of 10.1% within 2017-2022.
"Traditional advertising stills holds a significant share of revenue and predicted to grow in the next five years. The strong performance is attributed to the city's uniquely dense populations, whereby accessibility to print, TV, and out-of-home advertising is still seen as a powerful and effective tool in capturing mass views in a short duration," adds Cecilia Yau.
Moving towards the internet advertising trend, more advertisers are embracing digital platforms and are moving content to leverage video on-demand and popular social media platforms.  Cecilia Yau notes: "Operators can leveraging data analytics to develop retention strategies and monetisation targets, offering opportunities to capture new revenue streams in advertising, digital subscription, and microtransactions,"
China is still second largest internet advertising market, and continues to grow
Total entertainment and media (E&M) revenue in China is forecast to reach USD$343 billion, growing at a rate of 7.2% CAGR through 2022.  Similarly, digital revenues accounted for almost 60% of all China E&M revenue in 2017, and predicted to rise at a CAGR of 9.4% over the next five years.
Overall, China is again the second largest market globally for Internet advertising with revenues worth US$45.7 billion, with only the US posting more.  Top segments in predicted CAGR include: Virtual reality (44.5%) OTT Video (16.3%) Internet Advertising (11.8%) Video games and e-sports (9.7%) and Cinema (9.7%)
China OTT video is a key growth driver, achieving the second largest CAGR of 16.3% within E&M segments, outpacing global growth of 10.1% by 2022.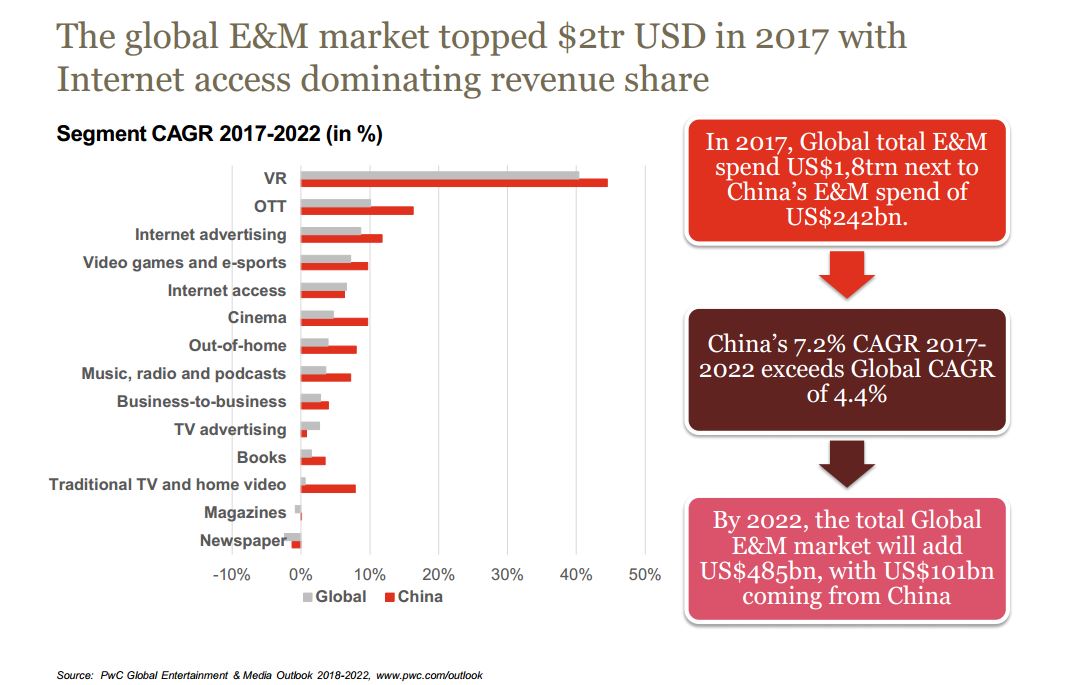 Gaming is expected to be big
A segment growing in maturity in Hong Kong is the large and thriving video games market, valued at just over US$1.0bn by 2022 after increasing at a 4.9% CAGR by 2022.  It generated USD$791 million revenue in 2017, with a 4.9% CAGR, to reflect the third largest revenue portion behind OTT video and internet advertising in the next five years.
Within the Hong Kong video games segment, more than 60% of total revenue came from social/casual gaming. This reflects the increasing importance of the segment in the entertainment and media sector.  In addition, Hong Kong's gaming market continues to thrive because of largely unrestricted access to foreign-produced hardware and games.  A growing segment supported by the city's almost full smartphone penetration, strong broadband speeds and notably - Hong Kong not being subject to the same restrictions on gaming content as China.  As a result, mobile game developers benefits from favourable market conditions through highly popular free-to-play games.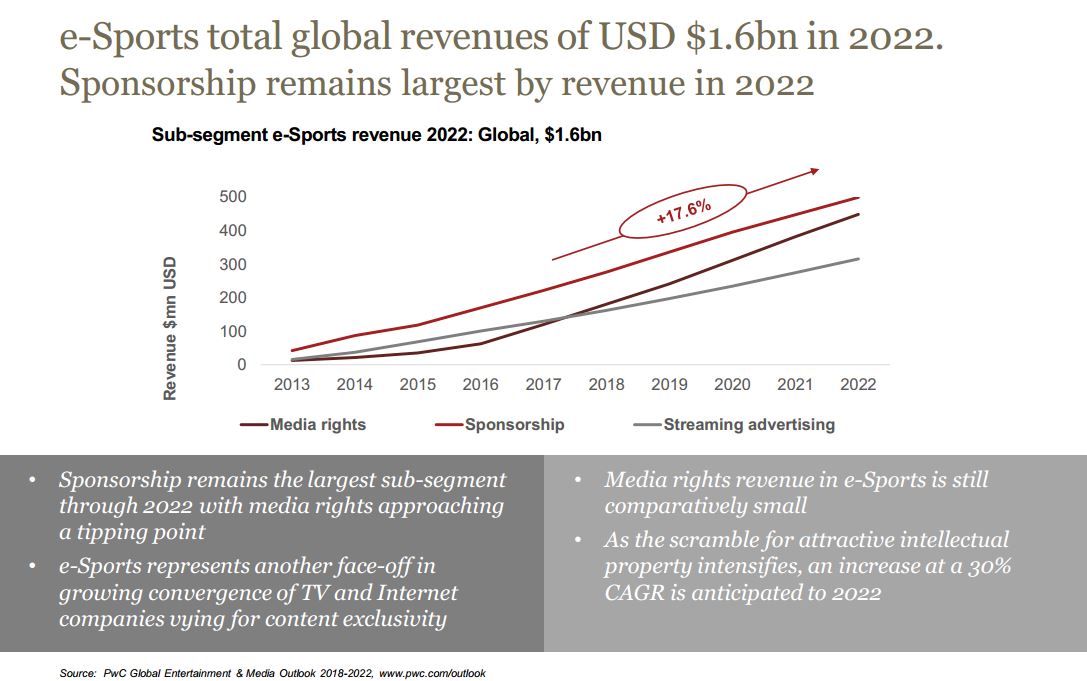 Comparatively in China, total video game and e-sports revenue reached US$20 billion in 2017. The segment is projected to grow at a 9.7% CAGR, in a market valued at US$31.7bn by 2022, making China the world's largest video games market, overtaking the US by then. More than 60% of total revenue within the segment came from social/casual gaming.
Although the market size remains relatively small, e-sports is gaining popularity in Hong Kong. It offers ripe opportunities for game developers, advertisers and sponsors.  Monetisation of the e-sports sector is led by sponsorship, followed by media rights.   "Hong Kong's video game market is growing in size and importance in the E&M market. E-sports offer dynamic opportunities for game developers and businesses to develop monetisation models that personalises game play and improves player performance," said Wilson Chow, PwC Global, China & Hong Kong technology, media & telecommunications leader.
Commenting on the convergence of E&M models towards digital platforms, Wilson says: "To build new revenue streams, operators are turning to diversified monetisation models and using technology to enable content delivery to become progressively cheaper and more personalised. Mobile devices are becoming consumers' primary access to E&M content, and therefore means to reach and monetise mobile consumers by offering direct-to-consumer models such as live experiences. Expanding content and distribution onto digital platforms that grow with consumers' time and spend will be key. "