Industry professionals view hiring the best talent as the biggest challenge in developing in-house media buying capabilities, according to the ID Comms 2018 Global Trading Survey report. The report surveyed 130 marketing, media and procurement professionals from both advertiser and agency backgrounds worldwide between 16 January and 2 February 2018.
It added that marketers also face an issue with retaining and offering a clear career progression to retain talent for the long term. Restrictions placed on ex-agency employees, such as being responsible for only one business compared to multiple accounts in the agency world, as also making it difficult for marketers to hire the best agency talent.
Although hiring the best talent is a difficult obstacle to overcome, marketers surveyed said that a range of skills is needed to develop successful in-house buying capabilities. One agency respondent said staff members have also suggested training to comprehend the effects of the full media mix, including offline, PR and creative.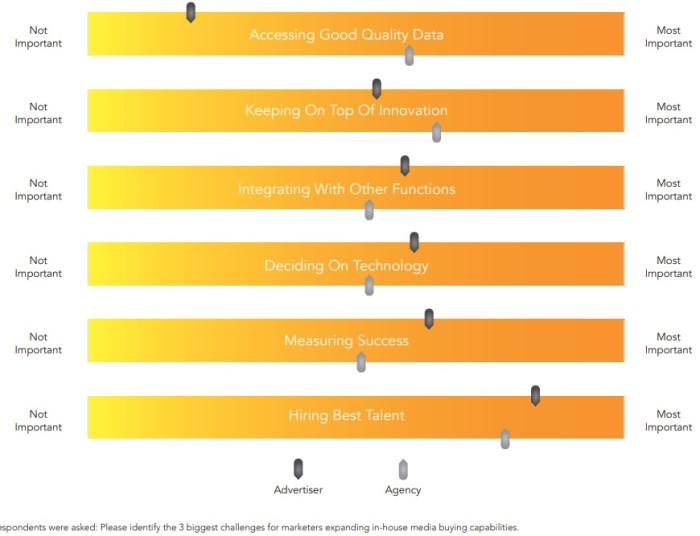 Survey respondents also indicated cost as the main obstacle to developing in-house buying capabilities. Other challenges include the difficulty of maintaining competitive tension developed in the agency sphere, while staying on top of changing market conditions, as well as keeping up with the latest trends in innovation. According to the survey report, these are key factors that will restrict the development of in-house buying capabilities.
Viewing media as a "quality buy"
About 88% of industry professionals agree that advertisers who treat media as a "quality buy" rather than a "commodity buy", have a competitive advantage over those that do not. Those surveyed said that while it is easy to buy media at a cheaper price, the challenge is to buy it well.
According to the respondents, the cost-focused behaviour is somewhat led by the media auditors' drive for cheaper costs each year, and client requests in pitch briefs for low costs, rather than focusing on the business contribution that media can make.
Advertiser KPIs are also important when it comes to media buying, as the survey stated that many advertiser briefs contain objectives and KPIs that do not place focus on the agency delivering "good quality and high value media". The survey added that there was consensus among respondents that it is important to balance between the cost and value of media buying, instead of prioritising one.
Meanwhile, 71% of those surveyed agree or strongly agree that traditional media auditing is a critical component of good media governance. On the other hand, slightly more than half of respondents (58%) disagree or strongly disagree that traditional media auditing is fit for purpose in an age of digital auction-based media buying.
The report also noted that media auditing is critical for transparency and trust, but requires improvement. It added that many respondents felt auditing is losing relevance as the key metric for success due to the increased prevalence of auction-based buying.
[gallery link="file" ids="216044,216046"]
Media plan dictates the buy
On a scale of one to 10, marketers (3.3) indicated that the media buy is dictated by the plan developed by media agencies for their clients. On the other hand, trade associations (8.5) and publishers (7.3) said that the media buy is controlled by the plan. The report noted that "wide disparity" among the respondents shows the "inconsistent priorities" within the industry, with some focusing on quality and some on cost.
About 68% advertisers and 32% agency respondents ranked business results as the most important indicator of success in media trading, followed by financial transparency and lowering prices. Brand safety, better targeting, not paying for fraudulent inventory, as well as qualitative exposure to audience and engagement were also viewed as important factors by respondents.
[gallery link="file" ids="216047,216043"]
A majority of the survey respondents (75%) were Europe-based, while 15% were from the US. The remaining 10% were from other countries. Media, marketing and procurement respondents to this survey represent a wide variety of brands in diverse categories including FMCG/CPG, retail, pharmaceutical, food and drink, and technology.