Location-based augmented reality game Pokémon Go has started fading in terms of popularity in Hong Kong and the US, according to the latest figures by the likes of Google Trends, Sensor Tower, SurveyMonkey, and Apptopia.
In the past a few weeks, Pokémon Go had been breaking one record after another and in less than a month following its launch, it became the most downloaded mobile game in modern history, according to a series of reports from various app/market intelligence firms.
As it turns out, however, more recent numbers show that Pokémon Go has started to lose some of its inertia.

Source: https://www.google.com/trends/explore?date=today%201-m&geo=HK&q=pokemon%20go
Calculated by the search interest in the region, Google Trend shows that the interest value of Pokémon Go in Hong Kong drops from 100, the peak popularity status, on its launch day (July 25) to half as popular three days after. The value has gone through some ups and downs and evens out to be around 20 since 5 August.
Figures from investment adviser Axiom Capital Management have also suggested that the game may have well off the peak since late July worldwide. The daily active users of the game peaked at close to 45 million in the middle of July, the number went down to just over 30 million in just a month.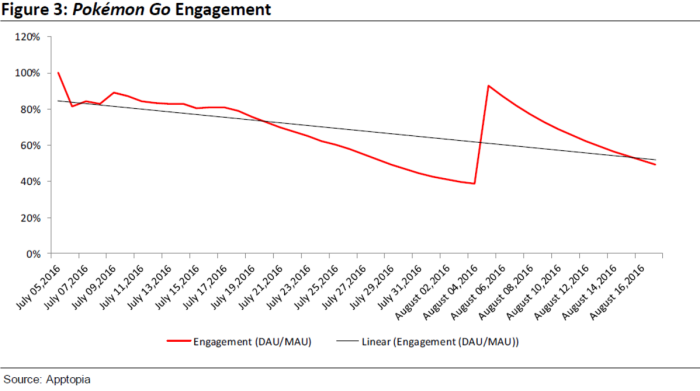 If the declines are proved enduring, not only do they suggest Pokémon go to be short-lived, but also an overview on the viability and popularity of augmented reality gaming at large. The Google Trends data is already showing declining interest in augmented reality, whereas interest in virtual reality remains high.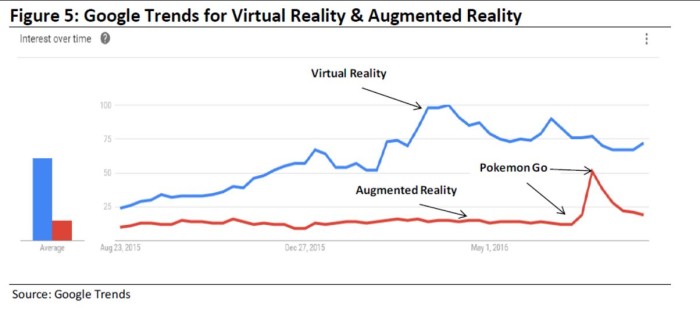 It will be interesting to see how long the Pokémon Go trend will last, but even if it were to fizzle in the next month or two, its impact on our culture as well as augmented reality tech cannot be denied.