With Chinese New Year (CNY) fast approaching, Google Malaysia has taken a look at what Malaysians are watching on YouTube Malaysia and what they are searching for during 2018 CNY season.
According to Google, about 75% of Malaysians (24 million out of 32 million) own an average of 3.1 internet-connected devices per person, and with more than 1.8 million Chinese households in Malaysia, the internet has become a major staple for entertainment and commerce during CNY celebrations. During the month of January to February, Google noted that YouTube watch time for CNY related videos was on a year-on-year increase of 250%. It also noted that during CNY, watch time on YouTube in Malaysia is slightly stronger in the morning, with the golden hour being from 5pm to 9pm.
On top of that, the internet giant said brands targeting the Malaysian market should create content around topics related to family, friends, funny and food, to connect with the Chinese community. An example would be, a modern twists on classic CNY songs and feature a short snippet daily during the magic moments, for 15 days leading up to Yuan Xiao Je (lantern festival). For brands which are targeting at scale to build awareness for its CNY offerings, Google suggested "the use bumper ads twice a week for a month leading up to CNY."
Check out also on, the top content Malaysians are watching on YouTube during the CNY season this year: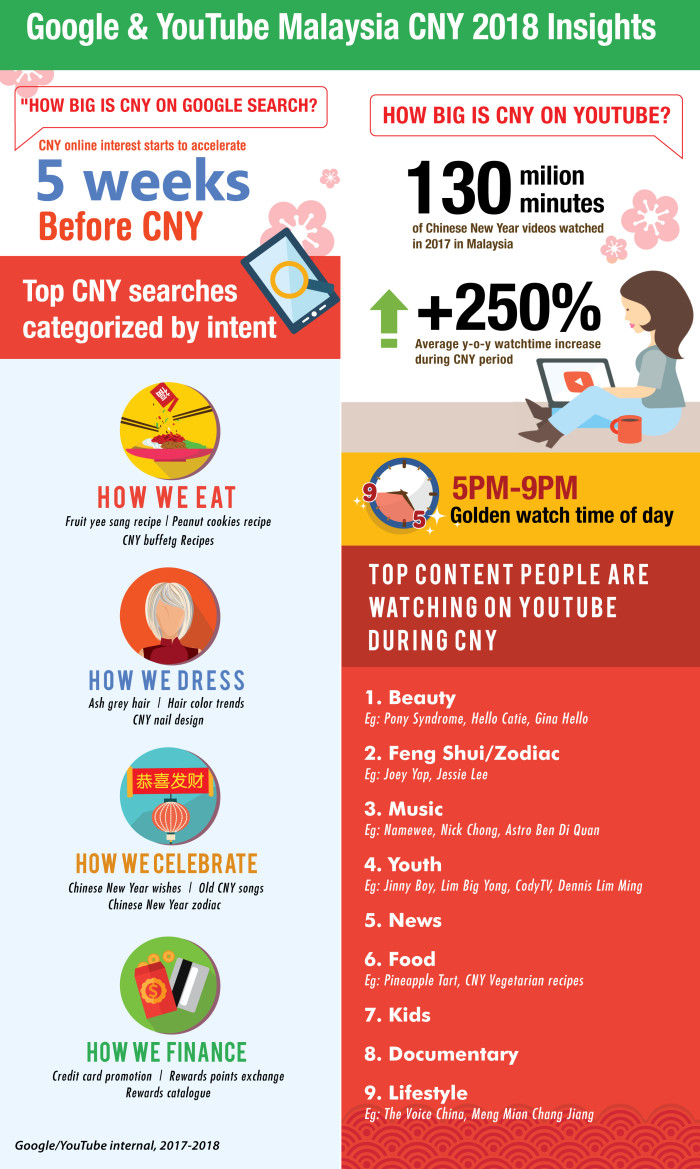 Search on Google during CNY
Meanwhile, Google also observed that CNY's online interest starts to accelerate about five weeks before the celebration, and peaks during CNY week itself. Google's spokesperson said, brands can use this information to intelligent connect on CNY searches, rather than demographics.
One of the CNY search campaign suggestions is a countdown to CNY with personalised, mobile-friendly eCards. Malaysians are observed to be more likely to search for CNY greetings and cards on their mobile devices. Companies here may want to scale campaign across different ad formats for greater reach. Brands can also partner with online grocery sites and offer discounts or cashbacks for CNY purchases.
Searches for supermarket discounts grew twofold during the 2017 CNY.
Malaysians particularly searched for: discount and promotions, product catalogues, online shopping and delivery options, and locations of supermarkets.
It is also critical to maintain brand presence across CNY search topics, so they would be able to "cover top slots when consumers are searching for them." Create hype around CNY-related landing pages via quizzes, food blogs and zodiac charts are some of the top suggestions by Google on this.