Google has published the results of its Consumer Barometer study today, which surveyed 150,000 people in 56 countries including around 3,000 people in Hong Kong.  The study was conducted by research agency TNS.
Just because consumers are researching your product online doesn't mean they will buy it
A key finding in the study is that there is an enormous gap between online research about products and actual purchases.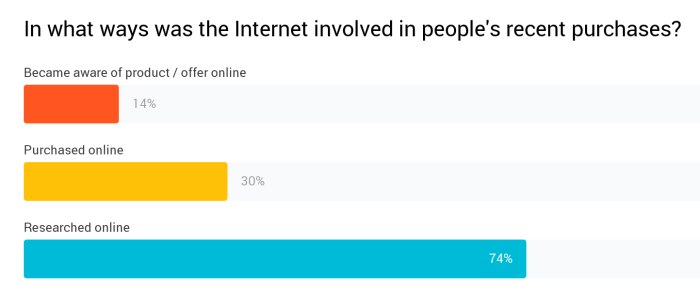 While 74% of Hong Kong respondents researched potential purchases online during the purchase journey, only about 30% of respondents made actual purchases afterwards.
"Many Hongkongers are researching products online but not actually buying them," Dominic Allon, MD of Google Hong Kong, said.
"This gap in the online purchasing journey presents plenty of opportunities for business owners."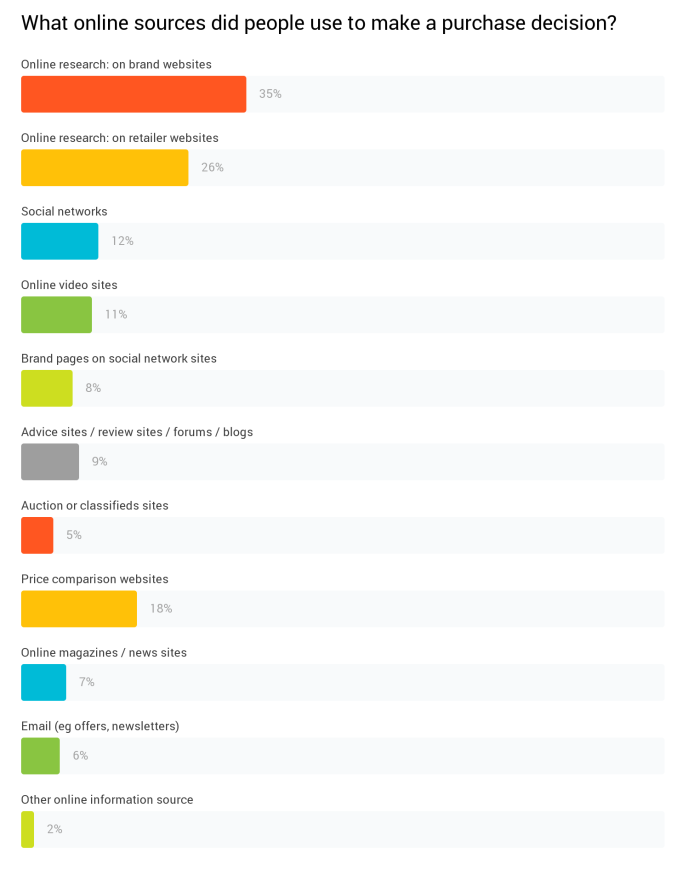 Obstacles standing between research of products online and actual purchases include the user experience interfaces of websites, such as search and navigation functions, as well as the lack of eCommerce functions such as product selection and check-out facilities.
Allon believes the adoption of eCommerce platforms for purchases will increase as eCommerce functions become more widespread.
"People are prepared to shop online.  As more opportunities are available to buy things online, people will make online purchases," he said.
Prominent motivations for purchases include having an urgent need for the product and making purchases for oneself, which hold true for a quarter of Hong Kong respondents each.
Regular and impulse purchases played a less prominent role, being a motivation for just 17% and 16% of Hong Kong respondents respectively.
Moving from mobile-first towards mobile-only
The mobile adoption rate in Hong Kong is now at 74%, up from 63% last year.
Allon said, "Hong Kong has the strongest bias towards smartphones in the world. We are leading mobile as consumers and we should be leading mobile as a business community."
In addition, 14% of respondents use only their smartphones to browse the Internet in Hong Kong, compared to 3% in Japan and 6% in the UK.  In Hong Kong, 13% of respondents use their mobile phones to browse websites more than on PC computers.
"We are seeing the emergence of the mobile-only era.  If you don't have a good mobile website, your shop is basically closed to these people," Allon said.
However, he notes that mobile websites should not be a re-sized version of a brand's website for desktop PC.  39% of respondents said they struggle with using brand websites on mobile.
"Mobile is a very different experience so you need to originate that experience on mobile," he said.
People are looking at their smartphones – while watching TV
Allon said "Multi-screen is the new normal and the smartphone is the most popular way of accessing the Internet."

Almost one third of Hong Kong respondents have more than four devices.  46% of Hong Kong respondents multitask on other devices while watching TV with 94% not looking at anything related to the TV show playing on their television screens.
"TV is no longer a single screen experience," Allon said.
More people are recalling online ads more and programmatic buying will play a key role
According to the study, 27% of respondents heard about their last purchased item through an online ad.
Programmatic buying will be an important trend as online advertising grows across search, display and video, says Allon.
He said, "We will see search, display and video ads growing over time and programmatic buying will be a key part of the mix."
[Image]: Shutterstock