Google, HKSAR Government, HSBC and Cathay Pacific have been named among the top employee brands in Hong Kong.
All four companies took top positions in Universum's ranking of Hong Kong's most attractive employers, with J.P. Morgan, Apple and Swire all among the top 10.
Polling 6,493 students from business, engineering, science, IT, legal and health sectors, Universum found that international companies were increasingly attractive for new employees, with students increasingly looking to work for a "good cause or to serve a greater good".
A work-life balance continued as the top career goals of students.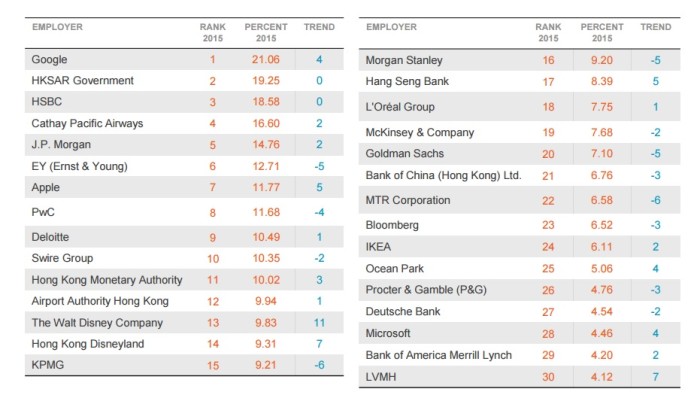 Regionally, Google was ranked the most attractive employer, ahead of PwC, Deloitte and KPMG.
Nora Wu vice chairwoman, global human capital leader at PwC, said it is important for the company to create leaders at all levels and enable people to be think, learn and develop both personally and professionally.
"We are working hard to attract, nurture and develop the right people for our business. We know that personal growth is one of their biggest priorities, so it is very rewarding to see that students around the world are recognising this too."
In its report, Universum named baking, media & advertising and government sectors as the most preferred industries to work.
The group also shared four tips to building a successful employer branding strategy.
1. Management involvement
If you do not have buy in from management and your CEO, you will not succeed with bringing the EVP to life internally, it needs to start from the top. Their involvement in the entire journey is crucial.
2. Not only based on internal findings
The most common mistake organizations make is basing an EVP on their internal identity. The true piece of the EVP is of course extremely important and a starting point for the EVP development, but not ensuring that it is attractive, distinct and credible for you to be talking about will set you up to fail.
3. Localize/adapt
You have to understand that your EVP needs to be articulated in different ways to different target groups. Not understanding for example how innovation is to be articulated to a senior executive and to a factory worker is also something that will make you less successful in launching it.
4. Track success and development
A lot of organisations fail to track their success. You need KPIs and goals for the Employer Branding and EVP to work.