We love a good recruitment ad! Most recently, what caught our eye was an ad by creative social agency Goodstuph which poked fun at the recent Singapore Airline (SIA) social media contest.
The social media contest saw contestants "fighting" for a chance to experience SIA's latest suites and business class products all in the comfort of the very popular Orchard ION mall. The prize was so absurd, it confused netizens as to whether the experience would take place in one of its actual planes, or in an installation in the middle of a mall! The move was called out by netizens online for being "cheap" and "in bad taste", and also sparked a debate between brand supporters and detractors online regarding SIA's customer service and experience.
Marketing has reached out to Singapore Airlines for additional details.
Coming back to the recruitment ad, much like the original SIA ad, the recruitment ad features a dotted outline of a person sitting on a chair, and promotes its job opening of a "suit", just like how SIA was promoting its "suites" and business class offerings. The copy was also similar, saying "This could be you".
Check it out:
When contacted by Marketing, an SIA spokesperson said that the brand regularly conducts public roadshows for new products using display seats, as part of a community activation. In coming weeks, it will be organising a series of roadshows at various locations over Singapore, featuring its new suites and business class products. These refer to actual seats, set up as they would be in an actual aircraft.
"This would be the first time these seats are made accessible to the general public since they've been unveiled, and malls were chosen as they are conveniently located," the spokesperson explained.
The spokesperson added that the contest being promoted in the social media post involves an exclusive session set aside for KrisFlyer members to be the first in the day, to view the new seats at ION Orchard. This allows KrisFlyer members with winning entries to get up close to the new products in an exclusive session.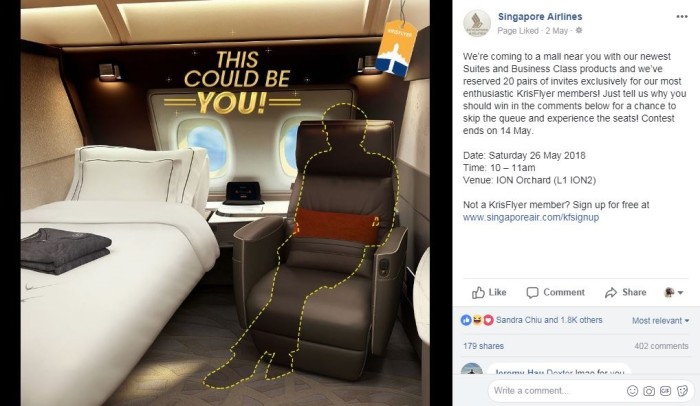 In a conversation with Marketing, Pat Law, founder of Goodstuph, said that the ad was done "in good fun" by its recently-launched same-day ideas service "Jason". At the time of writing, the post has garnered over 1,000 reactions on Facebook.
"We couldn't resist and it was all done in good fun by our Jason "urgent creativity" team that abides by three rules - ideas must be relevant to the brand and trend on hand, be thoughtful and tastefully executed. This post ticked all the boxes for us," Law added. Jason is a same-day delivery service aimed at churning out marketing ideas for brands within hours. This is done without a brief and in response to the latest market trends.
Jason was launched in February this year, and sees a dedicated team comprising copywriters Issa Mauricio and Kelly Koo, and art director/illustrator Lee Sin Yee. The trio focuses solely on brainstorming newsjacking-based ideas between 10 am to 11 am daily. Jason was also named after the agency's beloved courier guy and serves to be a reflection of Goodstuph's "kampung" culture.
That's some good stuff indeed.
Goodstuph joins the ranks of agencies which recently created quirky posts in a recruitment push. Most recently, BLKJ turned a typical job ad into a witty one by injecting industry references, grabbing eyeballs. The ad paints a picture of an ambitious and bright-eyed individual who is disgruntled at the fact that their contributions are not recognised by the company, and gets shot down by ECDs who cannot comprehend the ideas they put forth.
Last year, local independent creative agency, Blak Labs, launched a Grad Challenge with the promise of an eight-week placement, aimed at Nanyang Academy of Fine Arts (NAFA) School of Art and Design graduates. The challenge highlights the "dogged mentality" needed to succeed in advertising, requiring graduates to submit five pieces of their best work. Although aimed at NAFA graduates, the agency said this challenge is "open to anyone looking for a place to sit, stay and play".