Driven by a "mobile-first" consumer environment and improving marketing technologies, worldwide mobile advertising growth increased by 60.5% to $83 billion (€63 billion) in 2016, up from $52 billion in 2015, according to the latest analysis from IHS Markit, IAB Europe and the IAB.
Shares of the $83 billion global total for 2016 breaks out, by region, as follows:
North America: 46% ($38 billion)
Asia-Pacific: 33% ($27 billion)
Europe: 19% ($16 billion)
Middle East & Africa: 0.8% ($0.7 billion)
Latin America: 0.7% ($0.5 billion)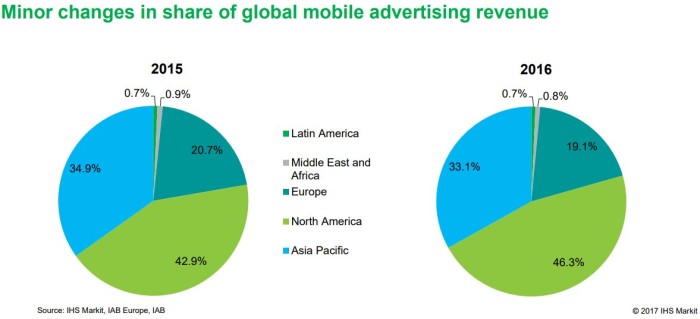 The global mobile advertising market has not only benefitted from the rapid smartphone adoption in emerging markets but also better ad targeting capabilities in mature markets, said Qingzhen Chen, senior analyst at IHS Markit.
"An influx of investments and partnerships for premium content, and data collaboration between broadcasters and leading online platforms were the key drivers for the strong mobile growth. The western markets were driven by several key markets but dominated by global players, whereas in APAC, local players accounted for most of the growth."
"High double-digit growth of 60.5% in global mobile advertising was also fueled by continued improvements in advertising technology," said Kia Ling Teoh, analyst at IHS Markit. "Standardisation of measurement has helped to better capture consumer interaction with mobile ads as media consumption increasingly shifts to mobile devices. This is particularly important in emerging markets where, for many people, mobile is the first and only means of accessing the internet."
Mobile display continues to drive investment with the highest growth at 64.3%, with mobile search lagging slightly behind, up 61.1%.
"The latest global mobile advertising revenue numbers confirm that we are now in a mobile-first media consumption and advertising environment," said Townsend Feehan, CEO of IAB Europe. Messaging grew by 11.2%, as users continue to migrate from operator-owned messaging services to app-based messaging platforms.
In 2016, display advertising increased its share to 54.0% of all mobile spend globally at $45 billion. Search-based advertising commanded a 42.8% share at $36 billion. Messaging-based advertising continues to decline, securing just a 3.1% share in 2016 at $2.6 billion.
"These global figures reflect brands' recognition that mobile is critical in reaching today's consumers around the world," said Anna Bager, senior vice president and general manager, mobile and video, IAB. "With mobile taking this landmark lead in digital revenues in America, it is unsurprising to see an upward trajectory the world over."
(Photo courtesy: 123RF)