According to research findings from Affin Hwang Investment Bank, the future of Genting Malaysia (GENM) looks positive due to the investments it is making into growing its gaming capacity. This report comes following a review with GENM's management.
Visitor arrivals for the resort are set to grow sharply and the management expects Resorts World Genting (RWG) to record 30 million visitors annually by 2020. Currently RWG contributes 80% of GENM's group earnings.
The research also states that the bulk of GENM's earnings growth is set to expand under the Genting Integrated Tourism Plan (GITP). An additional RM5.38billion capital expenditure is now being allocated towards expanding its gaming capacity in the podium (Sky Plaza).
Among others, the Fox World theme park will also ramp up its offerings and cost about RM2billion (previously RM1billion) to create. This is in a bid to offer better rides and undergo a major transformation to expand from 9 to 18 rides. All these are set to lure in more visitors, said the report.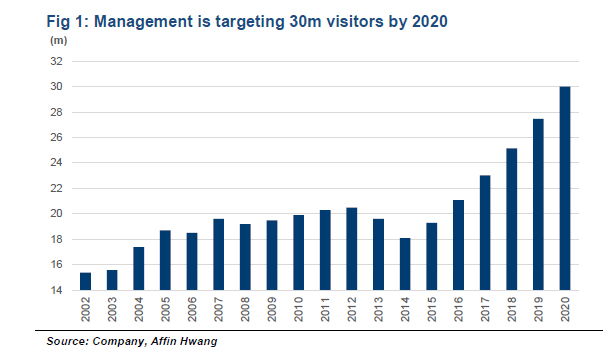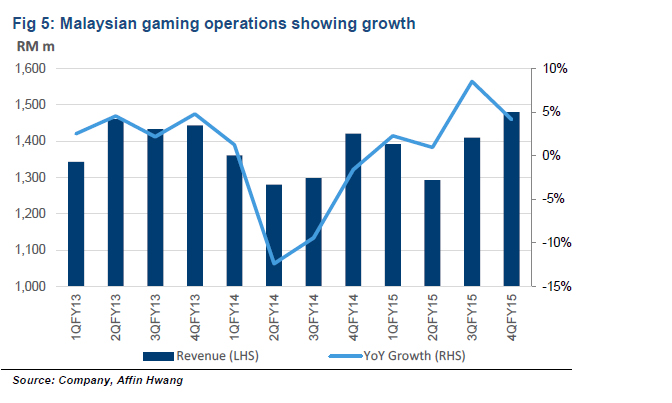 "We believe GENM's relatively aggressive target is likely within management's reach given the crowd pulling factor of having the world's first 20th Century Fox World theme park as well as its positioning as a shopping haven," said the study.  As a reference, Universal Studios Singapore (USS) attracted 2 million visitors in the first nine months of its opening. However, it is notable that USS is double the size of the Fox World theme park.
Over the past decade, visitor growth to RWG has been more modest since the resort has started to show signs of its age, having just celebrated its 50th anniversary in 2015. The study stated that the 10-year (2002-2012) visitor arrival to Genting Highlands registered a CAGR of only 2.9%. Since GENM began renovations in RWG in 2013, visitor decline was also to be expected.
Nonetheless, overall tourist arrivals in Malaysia have been relatively strong and exhibited a 10-year (2004-2014) CAGR of 5.7%. Besides that, the relatively still weak RM should be a boon for foreign visitors as well.